Fremont University is Having an Open House on 4/23 and 4/24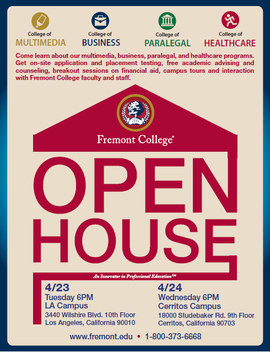 The Open House at Fremont University is an opportunity for prospective students to learn about our multimedia design, business, paralegal studies, and healthcare (wellness) programs. The event will take place on Tuesday 4/23 at the Los Angeles campus, and on Wednesday 4/24 at the Cerritos campus. Both events begin at 6:00 pm.
Visitors will receive on-site application and placement testing, free academic advising and counseling, breakout sessions on financial aid, campus tours, and interaction with Fremont University faculty and staff.
If you know anyone who could benefit from a college education, tell them about our Open House. The event is open to the public – no appointment necessary.
Los Angeles Campus
3440 Wilshire Blvd. 10th Floor
Los Angeles, California 90010
Cerritos Campus
18000 Studebaker Road Suite 900A
Cerritos, California 90703