Multimedia Design Career Facts Infographic
Multimedia Design Career Basics

The Multimedia Design industry consists of four common careers, including Multimedia Designer, Graphic Designer, Web Designer, and Web Developer. Jobs within the Multimedia Design field not only show consistent growth, but they also provide excellent earning potential. If you have artistic talent and computer skills, consider a Multimedia Designer career. Take a look at the Multimedia Design infographic below to learn more about this profession and discover why a Multimedia Design career is a great choice for those who have creative talent.

What is a Multimedia Designer?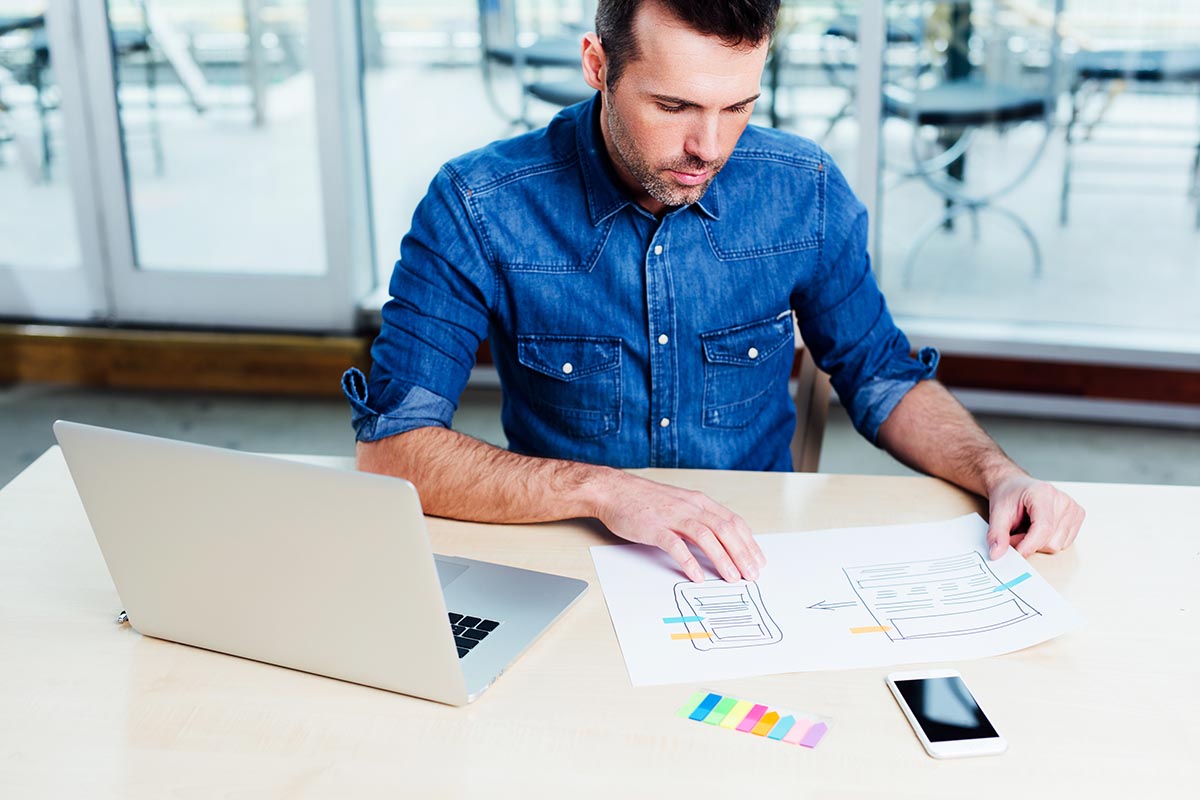 Multimedia designer utilizes technology to convey visual messages. Multimedia designers build on their skills as graphic designers by combining graphic design with animation or other media to create new and unique presentations.
Multimedia Design Basics
If you are a creative person who has an eye for designing aesthetically pleasing projects, then a career in Multimedia Design may be the perfect fit for you! Multimedia Design professionals create illustrative visual effects for movies, TV shows, video games, and fashion products. According to the Bureau of Labor Statistics, occupations in the field of Multimedia Design earn an average yearly salary of $63,970 per year. This data makes Multimedia Design a promising career, especially considering the expected job growth of 6% between 2014 and 2024.
What Type of Background is Required for This Field?
Most careers in the multimedia design field require a bachelor's degree in graphic design or fine art with a specialization in an appropriate medium, such as film, audio or video production, TV, or websites. Multimedia designers should also possess a firm grasp on how to generate content that will visually stimulate consumers and convey the appropriate message. Therefore, an understanding of aesthetics and communication is necessary in this field. Multimedia specialists also need to stay current with changes in consumer trends and popular taste.
Through coursework, students will build a portfolio of their work, which can be used to secure a job after graduation. A graduate can work in a variety of ways, including as a freelance multimedia designer or being employed by non-profit or for-profit organizations. Depending on the particular field, multimedia designers typically have proficiency in JavaScript, XML, HTML, and various other types of software. While it is important to learn a variety of technologies, multimedia designers still need to stay informed of any changes in the technology they use. In addition, multimedia designers often participate in on-going training or research on new developments.
What Type of Career Path Could I Take as a Multimedia Designer?
A successful multimedia designer must be able to use a variety of creative methods to illustrate certain messages. However, there are many career paths in which a multimedia designer can do this. The four most common career paths in the multimedia design field are:
Multimedia Designer
Graphic Designer
Web Designer
Web Developer
Careers in multimedia continue to grow in demand as the field expands and new technologies are released. However, some opportunities are also expected to decrease as some companies employ professionals overseas. According to the U.S. Bureau of Labor Statistics, there is projected employment growth for multimedia artists between 2014 and 2024. Salaries for multimedia artists vary based on the particular area of focus.
There are several additional routes from which you can choose in order to be successful. With career options ranging from movie animation to fashion design, creative individuals have a variety of possibilities. A few other possible jobs might include:
Movie/TV Animation
One option for careers using a Multimedia Design degree is Movie or TV Animation. This profession works with a team of artists to utilize technology in order to design and implement animation. This profession, as described by the name, uses animation and design skills to work specifically with TV shows or movies, which can result in cartoons or CGI (computer-generated image) characters. Movie and TV Animators must have good communication skills since they usually work in a team setting and will need to express their ideas to both teammates and clients alike. Additionally, animators in this work setting should be skilled with computers and technology, since their job depends on their ability to execute ideas with the use computer programs. This branch of the Multimedia Design industry earns an average yearly salary of $63,970.
Web Design and Development
Another option for a career that uses a degree in Multimedia Design is Web Design. This profession is responsible for the aesthetic appeal and functionality of websites. As a result, Web Developers must be skilled in coding and working with HTML, which is the typical markup language used by professionals in this career. (Source: https://www.bls.gov/ooh/computer-and-information-technology/web-developers.htm#tab-4) Web designers and developers must also be focused, detail-oriented individuals, since working with code can be tedious in order to get a web page to look like the intended design and work with the anticipated features. This particular branch of Multimedia Design has high anticipated job growth, which experts predict as 27% between 2014 and 2024. This career earns an average yearly salary of $64,970.

What is a Typical Work Day for a Multimedia Designer?
Work activities for multimedia designers can vary from job to job. However, here are a few common tasks a multimedia designer might perform each day on the job:
Creating multimedia products utilizing the help of others like business analysts, technical architects, and software programmers
Creating artwork to be used in video games
Creating animated sequences using computer software
Creating digital images for the purpose of animation
Transferring audio/video files to be edited and manipulated digitally
Freelance work is common in the field, so many multimedia designers may not have a typical 9-5 day or go to an office for work. Instead, many may work from home or their own personal studio.
How to Become a Multimedia Designer
Most Multimedia Designer position requires a minimum of an associate's degree in Multimedia Design or a related field. Fremont University offers a Multimedia Design degree program that can be completed in just 15 months. The Multimedia Design program will equip you with the skills you need to succeed in the Multimedia Design industry, including training in graphic design, web development, in-depth Adobe Creative Suite software training. Take the first step on the path to career success by enrolling in our Multimedia Design associate's degree program. Contact us today or click on the button below to receive a free Multimedia Design career guide.
Whether you are interested in animating movies, developing web pages, or starting any career that requires a degree in Multimedia Design, Fremont University is here to help. We have designed our Multimedia Design program to equip you with all the skills you need to go into your career of choice, whether that means teaching you how to code or instructing you on the basics of marketing. Not only is our program thorough in teaching you what you need to know, but it also only takes 15 months to complete! To learn more about how you can start in our exciting and innovative Multimedia Design program, contact us today.