Professional Action Learning Embedded with Industry®
Professional Action Learning Embedded with Industry® ("PAL"): An Innovative Approach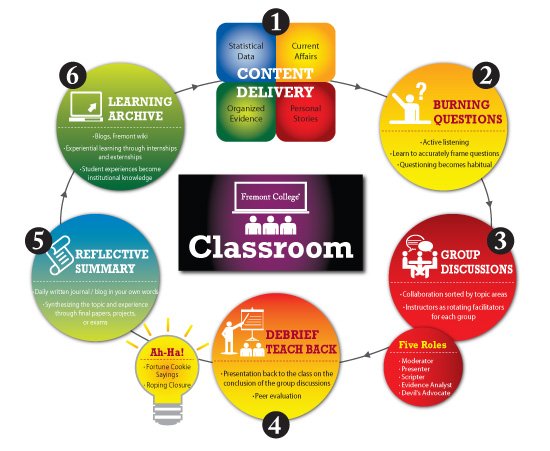 A world of learning, enhanced by teamwork and collaboration, grounded by ethics.
Our unique approach, researched and designed exclusively by Fremont College's Chancellor and CEO, is Professional Action Learning Embedded with Industry® ("PAL"). This unique teaching methodology is aimed at helping you learn better and faster than you would at a traditional college.
The diagram below illustrates what you can expect from a typical classroom session be in one of our on ground programs or online degree options.
Experience Professional Action Learning Embedded with Industry® ("PAL") for yourself and you'll quickly see how our graduates are transformed into articulate, skilled professionals ready to lead in today's competitive workplace.
The Six PAL Steps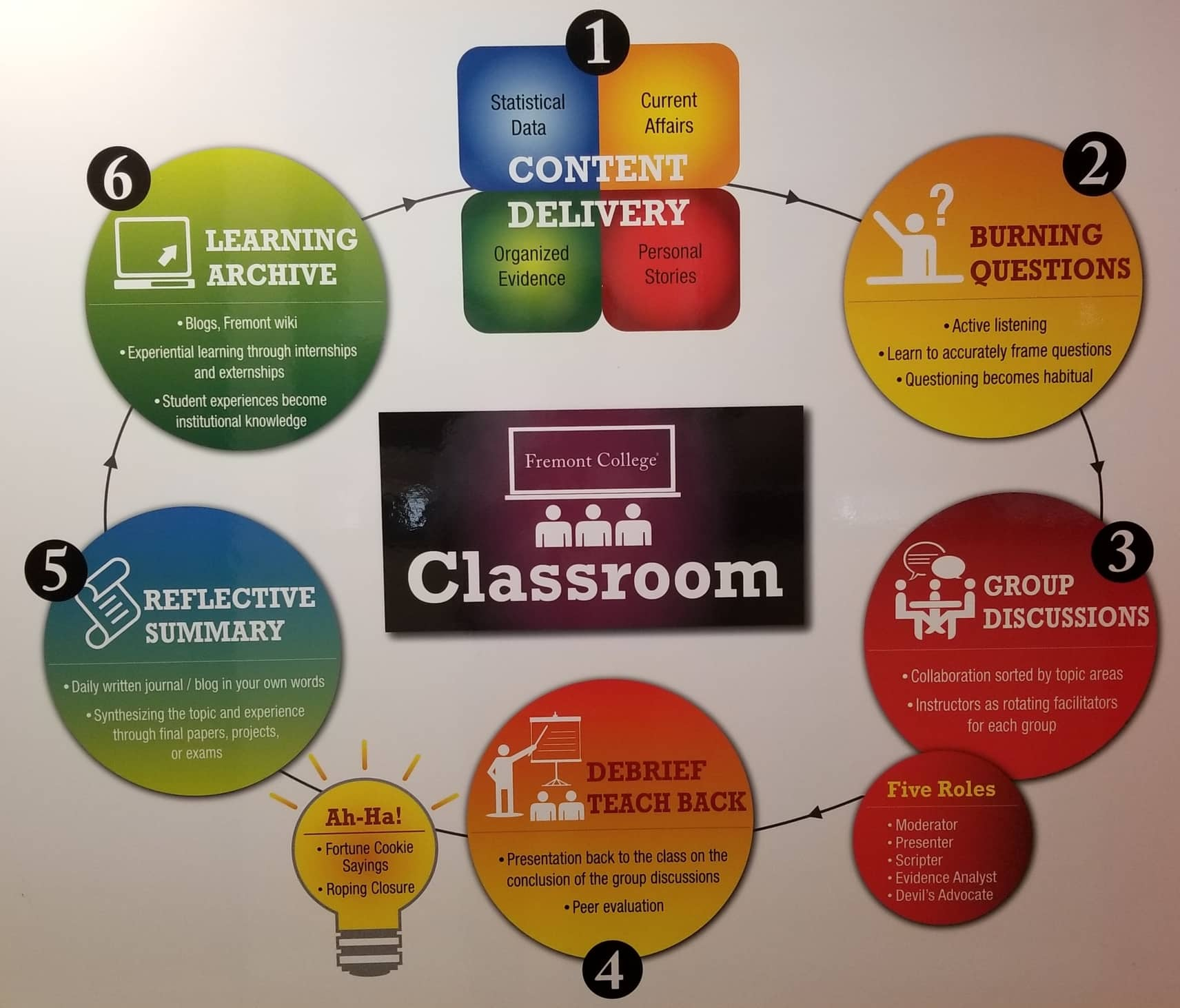 Content Delivery – Data, affairs, organized evidence, personal stories.
Burning Questions – Active listening, learn to accurately frame questions, questioning becomes habitual
Group Discussions – Collaboration sorted by topic areas, instructors as rotating facilitators for each group

Five Roles:

Moderator
Presenter
Scripter
Evidence Analyst
Devil's Advocate

Debrief Teach Back – presentation back to the class on the conclusion of the group discussions, peer evaluation
Reflective Summary – Daily written journal/blog in your own words, synthesizing the topic and experience through final papers, projects, or exams
Learning Achieve – Blogs, Fremont Wiki, Experiential learning through internships and externships, student experiences become institutional knowledge
Repeat
Are you Ready to Start Your Education?
If you're ready to start an exciting new career path let Fremont College help. Click the below link to get started and learn more about our programs, degrees and get your questions answered by an experienced career mentor. Our team is ready to help you make your career goals a reality. Learn how you can be career ready in as little as 7 months by contacting Fremont College today.
Request your FREE Career Guide