WOMEN WHO DAZZLE IN BUSINESS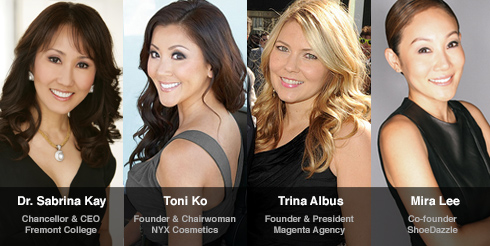 …THE SECRET SAUCE FOR HAVING IT ALL
"Combine your passion and talent. Educate yourself to be the best at what you do. Then, your career becomes your calling in life." – Dr. Sabrina Kay, Chancellor at Fremont University Los Angeles, CA – Women now represent 47% of the American workforce, 59% of college degrees, and 51.3% of the buying power in the nation. Yet, women are still expected to bear children, take care of the household, look good and be as successful.
So, how do women manage this seemingly impossible balancing act? To find out, Fremont University gathered three successful women CEOs who made it in the world of beauty, social media, and business to share their secrets to "having it all." Fremont University Chancellor Dr. Sabrina Kay will moderate this all-star panel consisting of Toni Ko, founder of Nyx Cosmetics; Mira Lee, co-founder of ShoeDazzle; and Trina Albus, founder of Magenta Agency.
Each of them is willing to share all of their unique stories about how they arrived at where they are today with students and aspiring entrepreneurs. Seats are limited, so don't miss this chance to meet four of LA's most dynamic women CEOs. Fill out the contact form to register for the event. The event starts at 6 p.m. with light dinner and drinks on Tuesday, August 19 at Fremont University Cerritos Campus 18000 Studebaker Rd., 9thFloor Cerritos, CA 90703.
About Our Panel
Toni Ko is the founder and chairwoman of Nyx Cosmetics, centered in the heart of Los Angeles established in 1999. NYX is a cosmetics line that offers a solid selection of every day basics, on-trend shades, as well as special occasion makeup for an affordable price while not sacrificing quality. Nyx is available in over 70 countries and thousands of retailers including Urban Outfitters, Target, Ulta and Nordstrom.
Trina Albus is the founder and president of Magenta Agency. Magenta Agency provides online presence makeovers to successful beauty, technology, fashion and e-commerce brands in Los Angeles and New York City.
Mira Lee is a co-founder of ShoeDazzle. ShoeDazzle has been making women look and feel beautiful since 2009. The company boasts award-winning client services, over 2 million Facebook fans and more than 18 million clients.
Dr. Sabrina Kay, a serial entrepreneur, is the chancellor and CEO of Fremont University. In addition to her work at Fremont, she comes from a diverse background of business, philanthropic efforts and fashion. She founded the Art Institute of Hollywood, the nation's first institution for computer-aided fashion design and also the founder of Premier Business Bank, The Sabrina Kay Collection, Fremont Private Investments, Fashion Umbrella, and LAdesigns.
About Fremont University
Fremont University is an innovator in professional education that specializes in offering accelerated degree programs to students who want prepare for a career or professionals to advance in their current field. We offer a number of business programs for those looking start a new career. With a campus in the city of Cerritos (Los Angeles County), and online, Fremont University is convenient to learners across southern California. The College offers associate and bachelor degree programs in Sports Therapy, Business, Digital Marketing, Paralegal Studies, and Healthcare.