Holly Tice – Fremont College Paralegal Graduate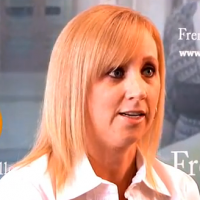 Before starting Fremont College, I was working at BP in the marketing department. I was laid off after 17 years of service, and was also 8 ½ months pregnant with my third child. I reflected on my career, my strengths, and what I wanted to do in the future. I decided that this was the time to go back to school and get the degree that I wasn't able to earlier because "life happened."
After graduating from Fremont College and studying/taking the Certified Paralegal examination through NALA (National Association of Legal Assistants), I am working as a part-time contractor at British Petroleum (BP) in La Palma. At BP.  I am working as a paralegal with responsibilities ranging from taking meeting notes, to tracking and resolving notices of violations (occurring at our store locations) from various governmental agencies, resolving issues with store specific alcohol licenses, and working with our attorneys on correspondence and letters relating to contractual obligations with our franchisees.
I chose Fremont College because it met all of my needs. It was important to me to go to a school that would actually prepare me for my career. The school's professionalism and dedication to the students impressed me and I wanted to be part of it.
It was great that the program was accelerated and that meant I would be working in my field faster. My favorite thing about Fremont College was the instructors. I had very knowledgeable instructors who practiced (or previously practiced) law in the area they were teaching. The instructors didn't only teach from the textbook, but used real like situations and tools that prepared me for my job as a paralegal.
In my current job, I enjoy writing most. When I am analyzing and issue, I use the IRAC (Issue, Rule, Analysis, and Conclusion) method which was taught to me at Fremont College. When writing other types of correspondence, I am able to decipher when it is best to use active or passive voice and how to do it effectively.
My advice to new students at Fremont College is to dedicate yourself 100% to being a student. What you are doing is a huge commitment and the reward at the end of this journey is an incredible feeling. Participate in class, the student programs offered (Student Ambassadors, workshops, etc.) and NETWORK. The staff, instructors, and board of directors are all there for you. Congratulations on making this decision, and good luck.
Ready To Start A New Career?
For those who are interested in a paralegal career be sure to check out our Paralegal education program.