Cerritos Campus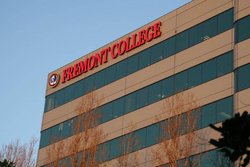 Fremont College Cerritos
Need Help? Speak with a mentor by calling (800) 373-6668
Fremont Cerritos College offers several degree programs available through the College of Healthcare, College of Legal Studies, College of Multimedia Design, and College of Business. Degree programs are available in Healthcare Management, Healthcare Information Technology, Sports and Rehabilitation Therapy, Massage Therapy, Paralegal Studies, Digital Marketing, Business Administration, and Business Leadership.
Fremont College Cerritos
Located in Los Angeles County, our Cerritos college campus is conveniently located for those who live nearby in South Los Angeles, Orange County, and Long Beach.  Fremont College in Cerritos offers morning, afternoon and night classes to accommodate busy schedules. Our campus also features modern classrooms and equipment to facilitate learning.
Browse Some Of Our Degree Programs Below To Get Started:
A Fun and Exciting Learning Environment
Our college community is an experience you won't forget. The Fremont instructors want you to make lasting relationships with like minded career driven individuals like yourself.  Unlike community college, Fremont classes are fast paced so that you can graduate and start working in a career you love.
Search our education programs for both online or on campus options.  Contact a friendly admissions representative to learn about certificates, associate degrees, and bachelor degrees.
Get a FREE Career Guide
Call or stop by our Fremont Cerritos College campus to get more information about degree programs and discover what Fremont has to offer.
Cerritos College Address
Fremont College
18000 Studebaker Rd, Suite 900A
Cerritos, CA 90703
(562) 809-5100
info@fremont.edu
Hours of Operation
Sunday: Closed
Monday: 9:00 am–7:00 pm
Tuesday: 9:00 am–7:00 pm
Wednesday: 9:00 am–7:00 pm
Thursday: 9:00 am–7:00 pm
Friday: 8:00 am–6:00 pm
Saturday: Closed