5 Learning Models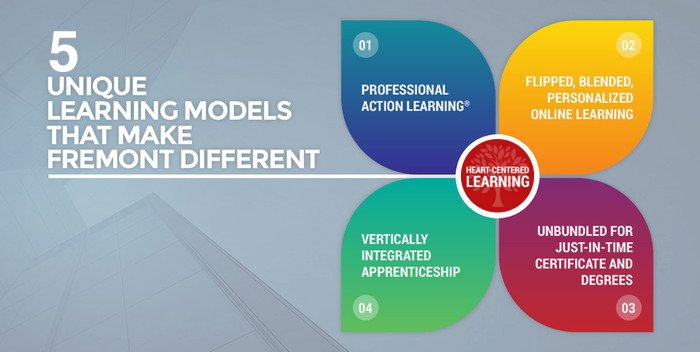 The Fremont College learning models can be employed many different levels of education. From diploma and certificate programs, to associates, bachelor, or masters degree level courses. Learn more about the unique learning models that make Fremont College and effective school for new students.
1. Project Based Learning
A world of learning, enhanced by teamwork and collaboration, grounded by learning through projects. Our distinctive approach, is Professional Action Learning ("PAL"). This unique teaching methodology focuses on apprenticeship and projects. PAL is designed to transform students into articulate, skilled professionals ready to lead in today's competitive workplace.
2. Flipped, Blended, Personalized Online Learning
A tech-fueled model of learning built upon the convenience of written and video content online delivery. Flipped, blended, and personalized learning is an ideal integration of online and in class modalities that allows students to optimize their own learning. All lectures are didactic and online so that students can view them according to their learning style and the appropriate level of learning as needed. Students take these lessons and implement them into a collaborative, project-based classroom setting with their professors and peers.
3. Unbundled for Just-in-Time Learning Certificate and Degrees
Exciting educational model that is dynamically changing the way higher education is disseminated, absorbed by students, and utilized by both graduates and employers. Unbundled is a building-block system of education where courses are broken down into units that can be combined into certificates that are then combined into degrees. This setup allows for enviable customization, specialization, organic growth, and efficiency. Fremont students have the freedom to pick and choose the classes they want to take when they want to take them by building their own degree paths based upon course/certificate/degree building blocks.
4. Work-based Apprenticeship Learning
The 21st century model of higher education is job-specific curriculum supplemented with real-world experience and training. A work-based apprenticeship learning is a blending of business with education in a way that is mutually beneficial. The model represents a collaboration of universities and business who work in tandem to create curriculum formed directly by the needs of the business. Universities teach this curriculum. Students take the class and work at the business concurrently earning both a degree and résumé-worthy experience. Students benefit by graduating with a degree, years of work experience, and specialization for a specific job. The business benefits with freshly graduated employees specifically trained and already integrated into their business culture.
5. HEART-Centered Learning
HEART-centered learning is Fremont College's signature approach to social and emotive educational development. It focuses on the following five concepts-Hardworking, Ethical, Accountable, Relevant, and Thankful. All curriculum is infused with these five concepts aiming to equip students with the knowledge, attitude, experience, and skills necessary to work in collaboration with others, resolve conflicts, be creative, and succeed in the face of obstacles both in school and in the workplace.