LA Kings Massage Therapist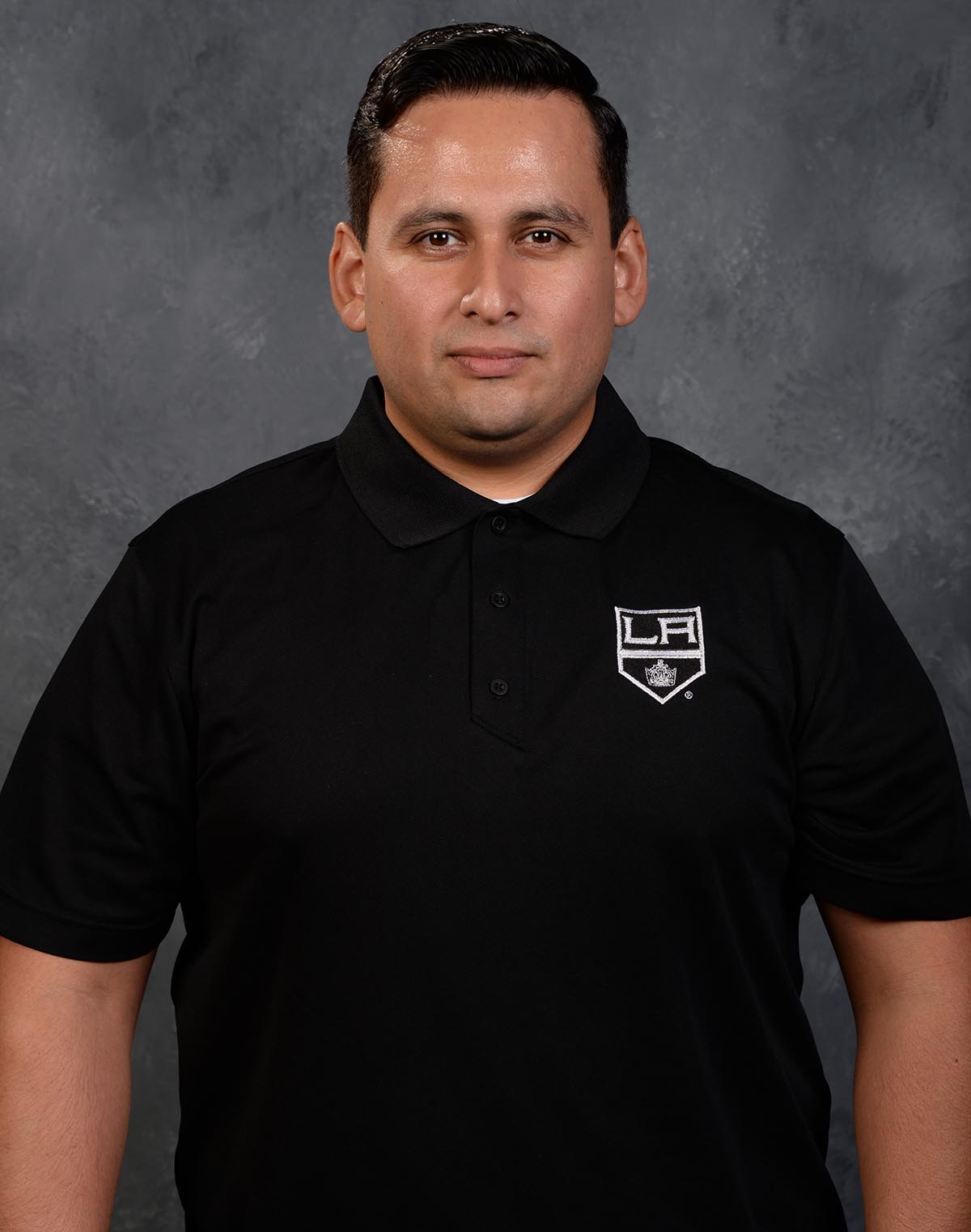 The Kings Man Grind
Fremont College Sports & Rehabilitation Therapy (SRT) graduate Thomas Rey is the massage therapist for the LA Kings.
—
There are many ways to measure success. At Fremont College, graduation is one bench mark. But the goal for all of the college's graduates is that each one finds his or her ideal career.
Thomas Rey received his associate's degree in Sports Rehabilitation Therapy from Fremont College back in 2009. Today, he's the head massage therapist for the Los Angeles Kings.
His journey from working a mall job he hated to rolling up to within 10 feet of the tarmac at a private hangar at LAX and boarding a jet full of NHL players, is an inspirational road-map for those enrolled in Fremont's most popular program to emulate and follow.
His success all boils down to one word. Grinding.
When he was 21 and living out in the sticks of Lancaster, Thomas went to massage school. After completing the program, he discovered that life as a massage therapist at the outer fringes of LA County was as barren as the neighborhood. Nothing panned out, so he found himself working retail.
"I hated my life afterwards," he said. "I had to get back into massage."
He determined that a return to school to learn physical therapy was his best option as it is a high demand field with job security. While researching, he happened upon a Fremont SRT ad and decided to visit the Cerritos campus. On his tour, his admissions advisor introduced him to a couple of SRT students.
"What really got me," Thomas said, "I asked them how they liked the program and they said they enjoyed it and talked about all of the events they'd been working. I thought, these guys are doing in-the-field events already? Even if it's just volunteer stuff, that hands-on experience is what I wanted. It's something no other school offers."
The hands-on work was the deciding factor in him making the commitment to drive from Lancaster to Cerritos three times a week. For 15 months, he averaged 2,500 miles and the equivalent of 2 ½ days in his car per month. Just to go to school. It was a huge commitment, but once enrolled, the program fulfilled all of his wants.
"Within a matter of two weeks, we had an event to do," he said. "And then we had another event to do. It seemed like every weekend there was something to do.
"It was great because I wanted to get as much exposure as I could and relate with as many people as I could. And I was meeting all kinds of people in different industries and walks of life."
Thomas excelled in the program and was one of three students chosen to go to the University of Oregon to work the 2009 USA Outdoor Track & Field Championships. In order to go, he paid his coworker $200 to switch vacation days with him. It was, up to that point in his life, the best $200 he'd ever spent.
"I was working on guys that had run against Usain Bolt in Beijing," Thomas recalled.
From there, he kept working events and meeting people. The head athletic trainer at Mt. SAC. The head athletic trainer of the Ontario Reign. Upon graduating the program, Thomas moved to Costa Mesa and worked at Massage Envy.
He still kept volunteering for Fremont events.
"Lance [Followell] would call me up and ask me what I was doing on the weekend," Thomas said. "I'd tell him nothing, and he'd ask me if I wanted to take some students to an event."
All of this volunteering paid off when Bobby Walls called Fremont College inquiring about an open massage therapist position with the Ontario Reign, the minor league affiliate of the Los Angeles Kings. Thomas was the first person Fremont contacted.
"I was nervous. I mean, what the hell did I know about hockey?" Thomas said. But he called the Reign and set up an in person interview at the end of the summer when Walls returned from his vacation.
"I spent the summer trying to research, read any book I could find on massage in hockey," he said. "There is nothing. So I read anything and everything. I was reading sprinting books. Anything I could."
When Thomas finally did meet with Walls, the Reigns Athletic Director crumpled up Thomas' resume and tossed it in the trash. His heart sank. And then Walls told him that faculty at Fremont College spoke very highly of him and that if they were willing to put their name on the line for him, then that was all Walls needed to know. In fact, Thomas had been hired after their initial conversation, Walls just wanted to meet him in person.
Things progressed quickly from there. Thomas moved to Ontario and transferred to a Massage Envy out that way. Because the Reign is a minor league team, with players making around $400 a game, there was not much money to pay for a massage therapist. So Thomas worked at Massage Envy, and Massage Envy kept his schedule flexible because they promoted his connection with the pro hockey team.
Within the first two months, Thomas was traveling with the team. He spent the next five years of his life in the training room and on the road with the Ontario Reign learning everything he possibly could about hockey and massage.
"The only way to learn is hands on," Thomas said. "There is no other way. When you get into the core of it, being with an athletic team, there's no book. There's no other way than just living it."
"That's the biggest problem that people have is not knowing what to expect, then getting into it and being upset because people can be so different, every day. Sometimes they are grumpy, or upset, or sad, or energized. Especially in sports. Things aren't going right and you're going to get looked at and told to 'go somewhere'. So, you better have thick skin."
Thick skin indeed. Last season, a major transition with the minor league structure threatened to put Thomas out of a job with the Reign. That summer, he sent his friend in the industry his resumé. Thirty minutes later, he got a phone call from the head trainer of the Los Angeles Kings.
"I couldn't believe it," Thomas said. "They knew I was with the program. That I'd been with the team for five years and traveled with them. That I did a lot of extra work that you don't normally do, like laundry. That I spent my mornings and evenings there."
He had a phone interview with the Kings assistant general manager that went well enough he was then invited to come down to the Kings training facility in El Segundo. He showed up to the meeting and after about 15 minutes of talking, he was sent down to the training room to work on some players.
"I go into the massage room," Thomas said. "It's a lineup of all of the big names. Jeff Carter, Alex Martinez, and I'm like, they didn't even give me the young guys. It's the big dogs."
Thomas noted that what helped him out was his time in Ontario and the effort he made to get to know all of the players on a more personal level. Because most pro hockey players make up a rather small community, many of them know each other from back home, many of the members of the Kings had inquired about Thomas to their minor league counterparts.
"The players here got word that I was coming down," Thomas explained. "They called their buddies and asked about me. The guys in Ontario spoke well of me. He's a good dude, you'll like him. He laughs, can take a joke. You don't have to worry about any of that.
"Sure enough, when I started working on guys, they asked me if I knew such-and-such. And I did know them. We broke the ice immediately which made it so much easier."
But what solidified the job for him was what happened when he reconvened with the Kings upper management. About midway through their second discussion, a prominent member of the team came into the conference room and asked when Thomas' interview would be done. Apparently, the rest of the team was waiting to get worked on.
The last couple of months since training camp have been a whirlwind for Thomas. He's had maybe five days off during that time. Sticking with his modus operandi, he's put in long hours at the training facility and has already made a couple of road trips with the team.
"They are long days," Thomas said. "But they are not impossible days. Besides, I'm doing what I love and getting a pretty good check out of it too."
He's rightfully excited about his new career. And none of it would have been possible without his willingness to outwork everyone else. His willingness to spend months of his life in a car driving to class. Spend his weekends working events with Fremont. Spend his summers studying and preparing himself. Spend years working his craft in the training room.
"Grinding," Thomas said. "It's the only way you get to be where you want to be in life."