Ambassador Frank E. Baxter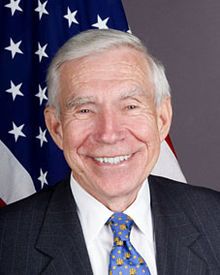 From 1961 to 1963, he worked for the Bank of California in San Francisco. In 1963, he joined J.S. Strauss and Company, San Francisco. From 1974 to 2002, he worked for Jefferies and Company. By 1987, he became its CEO, and started the Investment Technology Group.
He has served on the Board of Directors of NASDAQ and the Securities Industry Association. He is also Chairman of the Board of Governors of Fremont College.
He is also the Chairman of the Board of Alliance for College-Ready Public Schools and After-School All Stars. He is a Board Member of the California Institute of the Arts, a member of the Board of Councilors at the USC Rossier School of Education, a member of Governor Schwarzenegger's Commission for Jobs and Economic Growth, Vice Chairman of the Board of the Los Angeles Opera, Chairman of the Executive Committee of the Los Angeles County Museum of Art. He sits on the Board of Overseers of the Hoover Institution. He is a Trustee of the University of California Berkeley Foundation and the LA Chapter of the I Have A Dream Foundation. He is a member of the Council of American Ambassadors. Baxter is a member of the Board of Directors of the Pacific Council on International Policy.
He is a member of the California Club, the Los Angeles Country Club, the Siwanoy Country Club, and the University Club of New York. He is the recipient of the Bet Tzedek award.
View additional board members here