10 Facts You Didn't Know About the Healthcare Management Program at Fremont University
Facts You Need to Know About the Healthcare Management Program at Fremont University
The field of Healthcare Management is "the profession that provides leadership and direction to organizations that deliver personal health services, and to divisions, departments, units, or services within those organizations." In this career, you will have the opportunity to work in many different sectors of the healthcare industry, supervising and directing others in order to keep the system running smoothly for doctors and technicians. According to the Bureau of Labor Statistics, the demand for jobs requiring a degree in Health Management is expected to grow by 23% between 2012 and 2022. Because of this, a career in Healthcare Management provides ample job security, making it a highly desirable profession.
At Fremont University, we recognize the value of a degree in Healthcare Management and, as a result, offer many advantages that will save you time and ensure that you receive a quality education – both of which are qualities that set our program apart from other healthcare programs.
Save Time
In order to move forward in a career in Healthcare Management, you first have to earn a degree. For this career, a Bachelor Degree will put you well on your way to advancing in the healthcare industry, and Fremont offers a program which allows you to earn this degree in only 15 months. Fremont does not require you to take irrelevant classes like a traditional four-year institution, but instead provides you with coursework that is directly related to your career. This establishes the priority of preparing you for your job efficiently instead of wasting your time on extraneous topics like other colleges do.
Not only do we offer the ability to earn the degree in a short amount of time – we also provide flexible scheduling opportunities with our five start dates for this particular program. Instead of being restricted to Fall and Spring semesters like you would be at other schools, Fremont offers five different chances to begin this program. Our goal is to enable you to earn your degree as quickly and conveniently as possible, and this is one way that we work toward that goal.
Quality Education
Every quarter, the professors at Fremont meet with the Program Advisory Committee for the College of Healthcare in order to hear feedback and new advancements that keep the program up-to-date. With the constant developments in the healthcare industry due to extensive research that happens daily, keeping up can be difficult. At Fremont, we are determined to keep the program modernized with new discoveries so that you are prepared to enter the industry as soon as you graduate.
In addition to this dedication to high-quality content, the program also offers career placement assistance that encourages and aids our students as they search for jobs after graduation. A degree in Healthcare Management can lead to many career options, including:
Patient Care Manager
Medical Office Manager
Healthcare Program Manager
Medical Records Manager
Health and Social Services Manager
Rehabilitation Center Manager
With so many options to choose from, Fremont knows that you need to be well-equipped for your job of choice, and helps you achieve your career goals by qualifying you for each field of work, regardless of which specialty you choose.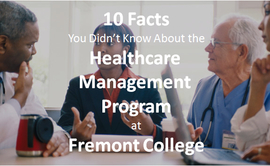 It is estimated that the number of Healthcare Manager jobs will increase 23% from 2012 to 2022*, making it an excellent time to pursue a career in the healthcare field. The Healthcare Management degree program at Fremont University provides students with the necessary training to take on a leadership role in the growing healthcare industry, and can be completed in a little over one year. Continue reading to learn more about the Healthcare Management degree program at Fremont University and find out what sets the program apart from other healthcare programs.
1. It takes just 15 months to earn a bachelor degree in Healthcare Management
The Healthcare Management program at Fremont University is part of a degree completion program that allows students to apply previous college credits toward a bachelor degree that can be completed in a little over one year. Students who are interested in the Healthcare Management degree program but do not have previous college credits to apply toward their degree can start out by earning an associate degree in Healthcare Information Technology, Sports and Rehabilitation Therapy, or even Paralegal Studies (for those who want to pursue a career in healthcare law) which also takes just 15 months. This approach will allow students to earn a bachelor degree in Healthcare Management in about two-and-a-half years – compared to four years at a traditional four-year college.
2. The Healthcare Management program offers flexible scheduling
The Healthcare Management program at Fremont University is convenient for busy, working adults because it offers day and night classes. This allows students to work school into their schedule rather than adjust their schedule around school. Those who are trying to balance a job, family, and social life appreciate the flexibility of Fremont's Healthcare degree program.
3. The program offers a unique concentration in the field of healthcare
There are numerous healthcare degree programs out there, but few that emphasize in healthcare management. The Healthcare Management degree program at Fremont not only provides thorough healthcare training, the program also teaches students business skills preparing them for a leadership role within the industry. By combining healthcare training with business training, Fremont's Healthcare Management program is well-rounded providing students with the skills they need to meet the demands of a healthcare leadership position.
4. Healthcare Management instructors are experts in the healthcare field
Our instructors have years of experience in the healthcare industry. They have worked in a healthcare setting experiencing first-hand the demands of the field better equipping them to provide healthcare instruction.
5. The program offers up-to-date, relevant coursework
The healthcare industry is constantly changing; therefore, a good healthcare degree program must change with healthcare trends. Classes in the Healthcare Management program include, Long-Term Care and Issues of Aging and Disability, Quality Management and Patient Safety, Managed Care and Healthcare Policies, Global Health, Disease Prevention and Treatment, Information Technology in Healthcare, and Quality Management.
6. The program has five starts per year
With five program start dates per year, you have time to plan your education and adjust your schedule before enrolling in college. In addition, extra start dates ensure you won't have to wait for a fall or spring start date forcing you to put your life on hold.
7. Fremont meets quarterly with its Program Advisory Committee to ensure industry-relevant curriculum
The Program Advisory Committee for the College of Healthcare consists of experts in the industry who contribute to the planning of Fremont's Healthcare Management curriculum. Feedback provided by the Program Advisory Committee during these quarterly meetings is incorporated into the curriculum to design a highly-relevant educational experience. We are constantly improving our healthcare program to ensure that it is aligned with current trends in the legal industry.
8. Students only takes courses relevant to their field of study
When you enroll in the Healthcare Management program at Fremont University, you won't waste time taking courses you don't need the way you would at a traditional four-year college. Our degree programs are career-focused ensuring that our students learn as much as possible about their field.
9. Healthcare Management graduates have a wide variety of career options Graduates of the Healthcare Management program at Fremont University can choose a variety of different career paths within the healthcare leadership area, including Patient Care Manager, Medical Office Manager, Healthcare Program Manager, Medical Records Manager, Health and Social Services Manager, and Rehabilitation Center Manager.
10. Graduates of the program receive career placement assistance
Students in the Healthcare Management program receive career development assistance throughout their time at Fremont. From cover letter writing seminars to job interview preparation workshops, the career services team at Fremont University is here to help every step of the way.
The Healthcare Management program, available through the College of Healthcare at Fremont University, prepares students for in-demand careers in the healthcare industry. Contact us today to learn more about the program and how you can earn a bachelor degree in one of the fastest growing industries in the U.S. in a little over one year. Don't wait any longer to start preparing for the career you have always dreamed of – enroll in the Healthcare Management program today and start preparing for your future. *Bureau of Labor Statistics, 2014 – www.bls.gov
Getting Started
With all of the reasons listed here, it is clear that now is the time for you to begin preparing for a career in Healthcare Management. Our Healthcare Management program is offered through the College of Healthcare at Fremont, and we are happy to assist you as you explore more about earning your bachelor degree in just over one year. With our help, you can start your journey to the career you have always wanted, so contact us today to learn more!

Sources
*samples.jbpub.com/9780763759643/59643_CH02_5289.pdf
*Bureau of Labor Statistics, 2014 – www.bls.gov