10 Facts You Didn't Know About the Massage Therapy Program at Fremont University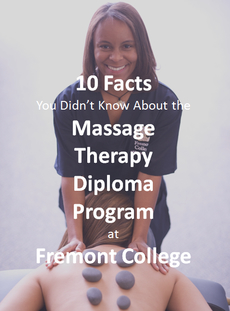 1. The Massage Therapy Diploma program takes nine months to complete
In just nine months, students receive massage therapy training and anatomy and physiology knowledge, along with 760 clock hours – which meets the requirement to apply for Massage Therapy certification.
2. Students receive hands-on training at various events throughout Southern California
Students of the Massage Therapy program attend sporting events throughout Southern California where they get the opportunity to practice what they have learned.
3. Course curriculum is relevant and up-to-date
Fremont meets with its Program Advisory Committee twice per year to ensure curriculum stays up-to-date with current industry trends.
4. Graduates of the program are prepared to take the Massage Therapy Exam to become a Certified Massage Therapist
Students in the Massage Therapy Diploma program are prepared to take the state certification exam to become a Certified Massage Therapist in California upon graduation.
5. Small class sizes ensure a more personalized education
We keep class sizes small in the Massage Therapy program to ensure students receive one-on-one attention from the instructor. Small class size are also conducive to student collaboration and help students learn better.
6. The Massage program offers five starts per year
You don't have to adjust your life around school when you enroll in the Massage program at Fremont University. Since we offer five starts per year, you can adjust your school schedule around your life. Traditional colleges only offer start times in the Spring or Fall, but Fremont
7. Students receive thorough training in massage therapy techniques and anatomy and physiology
Students in the Massage program learn the anatomical and physiological science of the human body, which provides the foundation for how massage works.
8. The Career Development team offers career preparation and placement assistance
Get Your Massage Therapy Diploma and Start Your New Career
[contact-form-7 id="31766″ title="Be a better person of your self form" html_class="gray-form"]
*In no way does Fremont University promise or guarantee employment or level of income/wages.