10 Facts You Didn't Know About the Multimedia Design Program at Fremont University
What Is Multimedia Design?
Multimedia design is a type of art that integrates multiple forms of media. Some examples of this type of work is used in video games, information kiosks, websites and other interactive applications. To truly be "multimedia," each product or project must involve the use of more than one presentation medium to communicate with an audience. For example, instead of choosing to incorporate either text or sound, a multimedia product would incorporate the use of both text and sound.
In addition to combining formats like text and sound, multimedia products can also incorporate other combinations of mediums like:
Text, sound, and animated images
Text, sound, and images from videos
Sound and video
Multiple display areas, presentations, and/or images that are presented at the same time
Speakers or actors who make use of "props" with text, sound, images, and/or videos
Additionally, multimedia products can incorporate audience involvement, which is defined as interactive multimedia. The interactive elements used within multimedia can include text entry, voice command, touch screen, mouse manipulation, live participation, and even video capture of the user.
Multimedia Design Education Options
If you are interested in pursuing an education in multimedia design, it is important to know that it requires both creative and technical skills. This is because multimedia artists integrate two or more types of media in their work. An example of this would be a webpage on the Internet that uses a combination of audio, animation and text. The advertising and marketing industries, for example, often use multiple forms of media to reach a wider range of audiences.
Careers in Multimedia Design
If you are interested in at career in multimedia design, you will find jobs in a growing number of industries, from advertising agencies to production companies. Job opportunities also exist in the gaming and entertainment industries. Some of the most popular career paths for multimedia designers include:
Web designer or programmer
Graphic designer
Software developer or programmer
Installation artist
Special effects engineer
Game developer or programmer
Video and audio editor
Job Outlook and Salary Info
According to the U.S. Bureau of Labor Statistics, multimedia designers are projected to see a 6% growth in job opportunities from 2014-2024. In addition, BLS estimates the median annual wages for multimedia design workers as $63,630 per year in 2014. However, there are differences in salary projection within the industry. According to BLS, workers in the motion picture and video industries earned average wages of $73,950, while those in computer systems design earned mean wages of $71,860 in 2014.
Multimedia Designer Vs Graphic Designer
Many students interested in multimedia design often ask what the difference is between multimedia design and graphic design. Multimedia art typically involves animation and motion graphics, such as those used for web, Power Point, and flash presentations. Graphic designers, however, tend to produce work geared towards print, such as designs for agency ads, packaging, and informational design for static or still work.
Though print work is typically related to graphic design, multimedia graphic designers can still work on print graphics that combine the use of art and technology. In some cases, these two design types overlap. For example, graphic designers with training in multimedia may also create animations and visual effects for use in videos.
10 Facts You Didn't Know About the Multimedia Design Program at Fremont University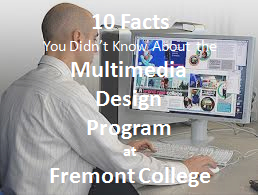 Multimedia designers integrate graphics, video, audio, and animation into presentation for websites, television programs, CDs, and DVDs. They work for web development companies, advertising agencies, television stations, and other media companies. If you are creative and enjoy working with computers, consider an exciting career in Multimedia Design. A Multimedia Design degree opens the door to a wide variety of career options within the graphic and web design industries, and offers great earning potential. Continue reading to discover 10 facts you didn't know about the Multimedia Design program at Fremont University and find out how the program can prepare you for a career in the growing multimedia design industry.
1. The Multimedia Design program takes just 15 months to complete
Since Fremont focuses on career-oriented education, students don't waste time learning about topics that aren't related to their future career. Instead, they receive career training that provides them with the necessary skills to succeed, and earn a Multimedia Design Associate of Arts degree in just 15 months. By enrolling in the accelerated degree program at Fremont University, students can earn a degree and begin working in their chosen field in a little over one year.
2. The program takes place online
The Multimedia Design program is perfect for busy, working adults because it takes place online. The online program allows students to complete coursework when it's convenient for them – day or night. Online students have the same access to their instructors as our on-campus students via web-based discussion and email. Students meet with their instructor and fellow students on-campus periodically to discuss important projects and get assistance.
3. Students receive in-depth training in Adobe Creative Suite software
Upon graduation, students are thoroughly trained in Adobe Creative Suite software, ready to pursue a career in graphic design, web design, marketing, advertising, and many other creative industries. Multimedia Design coursework at Fremont University includes:
Audio, Video, Images
Design Concepts and Color Theory
Video Editing
Digital Imaging
Layout and Typography
Digital Illustration
Visual Communications
Digital Photography
Web Development
Web Design
Branding and Advertising
4. The Multimedia Design program prepares students to take the Adobe Certified Expert exam
Upon program completion, students have the opportunity to take the Adobe Certified Expert exam to prove their multimedia skills and enhance their marketability as a Multimedia Designer. Obtaining a Multimedia Design degree and becoming an Adobe Certified Expert looks great on a resume and provides a head start when making a career move.
5. The Multimedia Design program prepares graduates for a number of career options
Multimedia Design students are trained for careers in graphic design, web design, web development, marketing, advertising, freelance design, and many other exciting careers. With so many career possibilities and great earning potential, a Multimedia Design career is a wise choice.
6. The Multimedia Design program offers five starts per year
Fremont University offers five starts per year allowing students to begin school when it is convenient for them rather than being limited to start in the Spring or Fall like at traditional colleges. When you enroll at Fremont, you don't have to put your life on hold while waiting for the program to start; you can get started with your education right away and be on your way to a promising career in a little over one year.
7. Course content is up-to-date and relevant
Fremont meets with its Program Advisory Committee twice per year to ensure that content is up-to-date with current industry trends. The Program Advisory Committee at Fremont University consists of experts in the Multimedia Design, and esports industries who help us develop our course curriculum.
8. Multimedia Design instructors are experts in the field
Our Multimedia Design instructors are experts in the field and have years of experience as web designers, graphic designers, web developers, and so on. Learning from instructors who have current and relevant experience in Multimedia Design ensures that you are equipped with the necessary skills to pursue a career in the industry upon graduation.
9. Small online class sizes ensure personalized education and one-on-on attention from instructors
We keep our online Multimedia Design classes small to ensure that students are able to obtain assistance from instructors when needed and to encourage student collaboration. It's important to have access to instructors, especially in a program such as Multimedia Design that is fast-paced and takes place online.
10. Graduates receive career planning assistance
The Career Development team at Fremont University assists students every step of the way during their education. Students have access to workshops and seminars geared at preparing for a Multimedia Design career. Some of the resources available to students include resume writing workshops, interview preparation seminars, and CEO Open House events where CEOs from major companies talk to students about achieving their goals.
Your time at Fremont doesn't end at graduation; in addition to career planning assistance, graduates are also invited back to attend alumni networking events and workshops to enhance their career. Obtain Multimedia Design training and earn a degree in just 15 months at Fremont University. Earning a Multimedia Design degree can provide the career boost you need to advance in your existing career or pursue a new career path. Contact us today to learn more about the Multimedia Design degree program and start preparing for your future.