10 Facts You Didn't Know About the Sports and Rehabilitation Therapy Program at Fremont University
What is Sports Rehabilitation?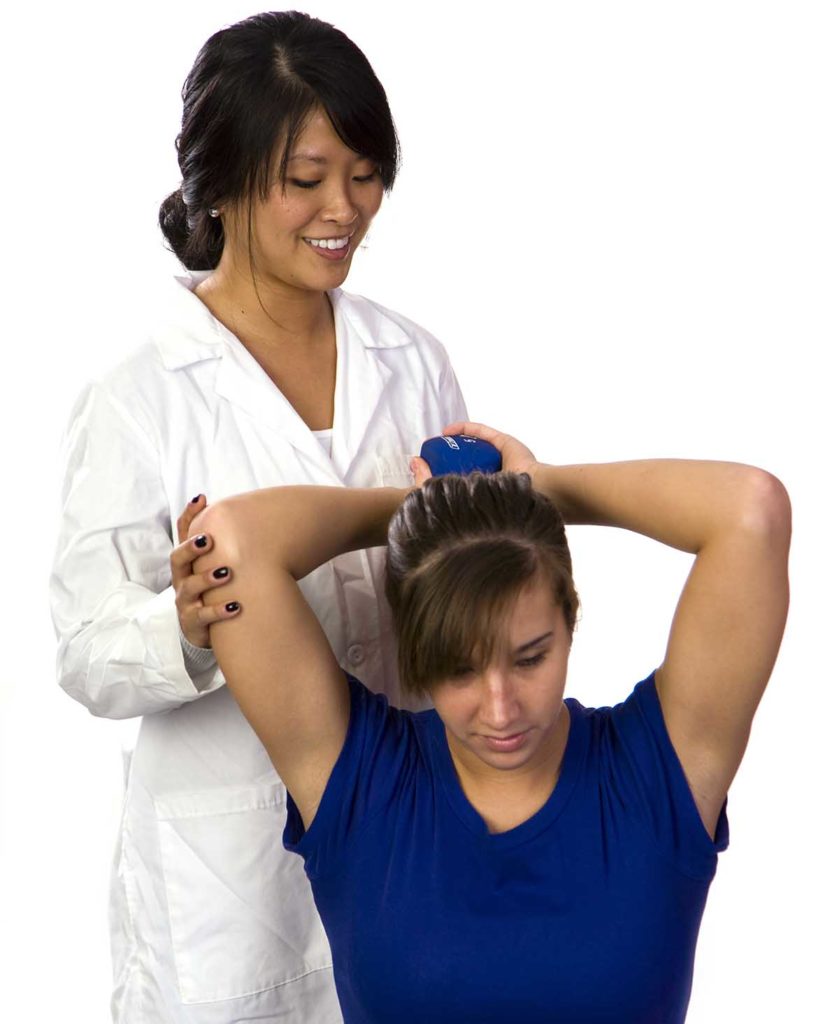 Sports rehabilitation is a multi-disciplinary approach to preventing and treating injuries that are commonly sustained through participation in sports. As a result, athletes who work with a sports rehabilitation program can regain normal and pain-free mobility.
Basically, professional Sport Rehabilitators will help people who are suffering from illness, injury or pain. They work with people of all ages ensuring that each client maintains their health and fitness, make a recovery or prevent injuries, and/or reduce pain to the best of their abilities.
A sports rehabilitation team may consist of highly trained professionals like:
Physical therapists
Athletic trainers
Chiropractors
Massage therapists
The primary goal of sports rehabilitation is to return the patient to his or her pre-injury activities, whether the athlete is a professional or amateur.
What Type of Injuries Does Sports Rehabilitation Treat?
There are a variety of injuries sports rehabilitation can target. The most common injuries treated by a sports rehabilitation team are sprains and strains. A sprain, or an injury to the ligaments, can be caused by overstretching or tearing. A strain, however, is an injury or tear to the muscle itself. Other conditions that can be treated through a sports rehabilitation team are fractures, arthritis issues, joint replacements, and generalized pain issues.
How Does Sports Rehabilitation Work?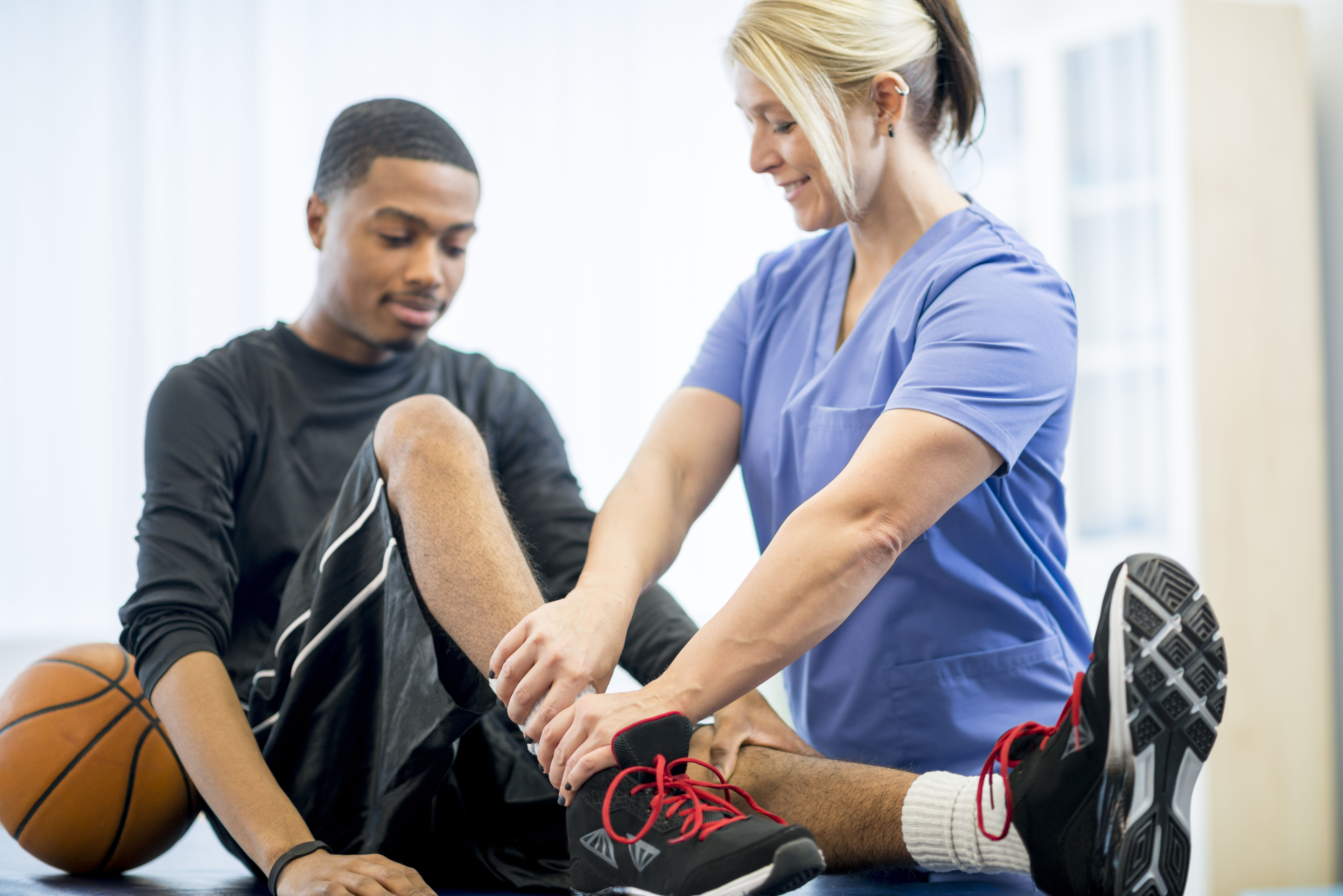 When a patient works with a sports rehabilitation team, he or she will begin with the treatment of the acute injury with a focus on pain relief. This part of the process is usually conducted by a licensed physical therapist. Some options that are used for pain relief include ice and/or heat applications as well as ultrasound and electrical stimulation. Eventually, the patient will work on optimizing muscle length. A big component of sports rehabilitation involves undergoing a stretching and exercise routine. Stretching will assist the muscles that have been shortened by injury or pain. With this approach, the muscles are able to regain normal length and pain-free motion. These specialized exercise routines use strength, endurance, flexibility and balance to improve performance. The final phase of the exercise routine uses functional exercises to help the athlete return to his or her former performance level. These functional exercises are usually sport-specific.
Sports rehabilitation is a comprehensive rehab program that focuses on every facet of pain-free, effective, sports-specific motion.

If you are interested in a career in sports rehabilitation, there are several career paths you can choose from:
Athletic Trainer – Athletic trainers are a group of allied medical professionals who work closely with sports-related injuries. An athletic trainer's goal is to prevent, diagnose, treat and rehabilitate sports-related injuries. This type of trainer typically works with muscle or bone injuries. In many cases, these trainers are the first to assess a sports-related injury. He or she will work with the injured athlete daily to help him or her regain full use of the injured area. Athletic trainers are typically employed by school systems, colleges, and at the professional level. In addition to working with athletes, an athletic trainer also works closely with coaches and, in some cases, the physicians who are treating injured athletes. According to the U.S. Bureau of Labor Statistics , the athletic trainer career path is projected to grow faster than average employment growth of 21% from 2014-2024.
Physical Therapist – Physical therapists can treat injuries that are and are not related to sports. However, physical therapists in sports-specific work environments primarily work with injured athletes. Once clients have undergone an evaluation, a physical therapist will create an injury-specific treatment plan with the goal to promote movement, reduce pain, and restore the function to injured areas. A physical therapist also works to prevent disability. According to the BLS, this field has a projected job growth increase of 34% from 2014-2024, which is a much faster anticipated growth rate than other occupations. Licensure requirements for physical therapists are state regulated, but all states will require that entry-level physical therapists hold at least a doctoral degree from a physical therapy program accredited by the Commission on Accreditation in Physical Therapy Education (CAPTE). Physical therapists must also receive a passing score on the National Physical Therapy Examination, which is offered by the Federation of State Boards of Physical Therapy.
Chiropractor – Today, many rehabilitation programs also utilize chiropractors. A chiropractor is a healthcare professional who is trained in the manipulation of the spine and manual soft tissue techniques. These are used to aid in the recovery of pre-injury performance. Many chiropractors are also trained in techniques in exercise and stretching.
10 Facts You Didn't Know About the Sports and Rehabilitation Therapy Program at Fremont University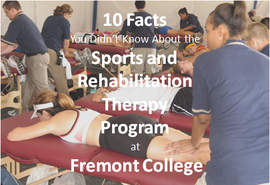 Few schools offer training specifically in sports therapy. Instead, many schools offer a massage therapy program that consists of one or two sports therapy classes, but does not prepare students for a Sports Therapy career. Fremont University not only offers a Sports Therapy program, the program is accelerated allowing students to earn a degree and begin working as a Sports Therapist in a little over one year. The current demand for Sports Therapists means there is no better time to obtain sports therapy training and pursue a career in the field. Continue reading to learn more about the Sports Therapy program at Fremont University and find out how you can become a Sports Therapist in just 15 months.
1. The Sports and Rehabilitation Therapy program takes just 15 months to complete
Fremont offers an Associate of Science degree in Sports and Rehabilitation Therapy that takes just 15 months to complete. Our accelerated degree program will allow you to earn a degree and begin working in your field in a little over one year. Unlike some degree programs, graduates of the Sports Therapy program at Fremont University are equipped with the necessary skills to begin working as a sports therapist right away upon program completion.
2. The Sports and Rehabilitation Therapy program is unique
Many of our students tell us they were pleased to discover that Fremont offers a Sports Therapy program because many schools focus on massage therapy rather than sports therapy. Since we are one of the only schools in the area that offers an actual Sports and Rehabilitation Therapy degree program, you can be certain that we are experts at teaching the subject.
3. The program offers thorough training in sports massage and anatomy
Our Sports and Rehabilitation Therapy program provides instruction on everything you need to know to become a sports therapist. Not only will you receive hands-on sports massage training, you will also learn about anatomy and physiology – two important skills a sports therapist must possess. Sports Therapy classes at Fremont University include Advanced Biomechanics & Assessment, Applications of Sports Therapy, Anatomy and Physiology Systems of Control, Sports and Specialized Massage, Personal Training, and other relevant courses.
4. Graduates are prepared for a wide variety of career options within the sports therapy industry
Graduates of our program are prepared for careers as a Sports Therapist, Rehabilitation Therapist, Medical Massage Therapist, Health Club Trainer, or Physical Therapist Aide. All of these careers show study growth as well as good earning potential, so you can be certain that your Sports Therapy degree will lead to a stable, rewarding career in an in-demand field.
5. Sports Massage Therapy programs and the massage therapy classes are all taught by instructors who have years of experience
Our sports massage therapy programs and the massage therapy classes are taught by instructors who have several years of experience in the sports therapy industry. Some have even worked with major athletes and sports teams, and understand the demands of a career in sports therapy. Experienced instructors guarantee that students receive top-notch, relevant training specific to sports therapy.
6. Students receive hands-on training at major sporting events throughout Southern California
One thing our students really like about the Sports and Rehabilitation Therapy program is the opportunity to attend major sporting events across Southern California and practice their sports therapy techniques. By the time a student graduates from the Sports Therapy program, he or she has completed dozens of hours of practice. Some of the events our students have attended, include: The Disney Half-Marathon, LA County Half-Marathon, Cal-Poly Football, Mt. Sac Cross Country Invitational, USA Track-and-Field Competition,
7. Small class sizes ensure personalized training and one-on-one attention from the instructor
We keep our class sizes small to ensure that students receive personal attention from the instructor and get the chance to collaborate with each other. Since the Sports and Rehabilitation Therapy program is hands-on, having smaller class sizes also allows students enough space for practicing their techniques. In addition, our classrooms are spacious and fully-equipped with high-quality sports therapy equipment.
8. Fremont meets quarterly with its Program Advisory Committee to ensure industry-relevant curriculum
Fremont meets quarterly with its Program Advisory Committee consisting of experts from the community to ensure industry-relevant curriculum. The feedback provided by the Program Advisory Committee is incorporated into the curriculum to design the most relevant educational experience possible. We update our curriculum on a consistent basis to ensure it is up-to-date with industry trends.
9. The Sports Therapy program offers five starts per year
You don't have to wait until the fall or spring semester to begin training in sports therapy at Fremont University. Fremont University of Healthcare offers five convenient starts per year to make it easy for you to begin school when you're ready without too much time passing.
10. Graduates receive career planning assistance
Sports and Rehabilitation Therapy students receive assistance from our Career Development team every step of the way during their time here at Fremont. From resume-writing seminars to job interview preparation workshops, our Career Development team is here to help you succeed. Upon graduation, we will also help you find employment in your field.
Get Your Sports Physical Therapy Degree & Start a Rewarding Career
[contact-form-7 id="31766″ title="Be a better person of your self form" html_class="gray-form"]
If you like sports and enjoy helping people, consider a career in Sports Therapy. Fremont University can prepare you for a career as a Sports Therapist in just 15 months. By enrolling in the Sports and Rehabilitation Therapy program, you will be equipped with the sports massage skills and knowledge of anatomy to pursue an in-demand career in Sports Therapy. Contact us today to learn more about our Sports and Rehabilitation Therapy program and how you can be on the path to career success in a little over one year.
*In no way does Fremont University promise or guarantee employment or level of income/wages.