The REAL Reasons Why You Didn't Get the Job
So…You Didn't Get the Job. Now What?
You got an interview and it went great, but after weeks of patiently waiting and pleasantly following up with your interviewer, you get the dreaded email that you didn't get the job. Being rejected for employment, even if you were not 100% invested in the job, is tough. So what do you do next?
You can start by letting out some frustration. Have a good cry, go for an intense workout, eat an entire carton of ice cream; whatever helps you relieve stress, do it. Letting out all the anger, sadness, and frustration you are feeling is an important step in the process. However, it is not the last step.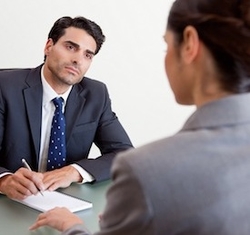 Discovering you didn't get the job you wanted can be discouraging, but it should simply serve as a lesson that helps you improve your chances the next time around. Although you will probably never know why you didn't receive a job offer in most cases, there are common reasons job applicants are turned down. Below are 10 reasons why you didn't get the job that will help you understand what hiring managers are looking for and prevent you from making the same mistakes in the future.
1. You didn't clearly state your qualifications on your resumé
This is one of the most common reasons why you can't get a job. If you don't make a clear connection between your qualifications and the employer's needs in your resumé, you most likely won't be called for an interview. Since most companies are now using resumé tracking software that reviews your resumé for relevant keywords, it's likely your resumé won't make it through the preliminary screening stage if you don't use the right keywords. Even if it is obvious to you that you are qualified for the position, make sure you state your specific skills and experience to prove it.
2. Your application contained grammatical or spelling errors
This is a common complaint among interviewers. While you may not think a spelling mistake or two is a big deal, it can be the difference between receiving a job offer and being turned down. This is especially true if you are applying for a job that involves a lot of writing. Making blatant mistakes in your job application suggests that you do not pay attention to detail – a quality which is important for most jobs. To avoid errors, have someone you trust proofread your resumé before sending it to a prospective employer.
3. The position was filled internally
This is a common reason why you didn't get hired, especially in larger companies. Some companies have policies about posting a job for a certain amount of time, even if they intend to fill the position internally. When this happens, you don't even have a chance for an interview. While this is frustrating for job seekers, it is part of the job search.
4. You showed up to the interview unprepared
When a candidate shows up to an interview unprepared it is not only frustrating to the hiring manager, it is also a complete waste of their time and could be the reason why you didn't get hired. Since interviews are usually scheduled days or weeks in advance, there is no excuse to show up unprepared. You should know and understand the mission of the company as well as the job you are applying for. You must be able to articulate how your skills and experience meet the job requirements.
5. You were unqualified or overqualified
If you continuously apply for jobs you are overqualified or under-qualified for, don't be surprised if you don't get called for a job interview. Although you might think it's a good idea to apply for every job that vaguely fits with your experience, in many cases it will just be a waste of your time. While it is common to apply for a position slightly outside of your skill set, blatantly applying for a job when you do not meet the minimum requirements is frowned upon. Pay close attention to the job description for words such as "must", "required", and "preferred." For example, if the job description states candidate must have (X) amount of years of experience working in an advertising agency and you do not meet this qualification, don't bother to apply.
6. You didn't show interest in the position during the interview
Once you actually get an interview, you have a lot more control over your chances of getting the job. While you don't want to seem overly-enthusiastic, you also don't want to come across as uninterested. When you describe your skills and qualifications, make sure you also express interest in the position. While your interviewer will be looking for specific examples of how your work experience applies to the position, they are also trying to assess your personality and if you are a fit for the team.
7. You didn't discuss your achievements
Make your past accomplishments clear during your interviews. While you don't want to sound arrogant, you want to show a potential employer that you are proud of your hard work. State past work achievements that are relevant to the position you are applying for in a confident manner. Potential employers want to know how you will help their company achieve similar results, so discussing what you have accomplished at your current and previous jobs is often more important than simply talking about your skills and job duties.
8. Your online reputation is questionable
If you think prospective employers aren't searching for your online profiles before making a job offer, think again. Nowadays, most employers will perform a search for you online to ensure the person they are interested in hiring is professional and has a good reputation. If a potential employer finds anything online that causes them to question your judgment, they won't take a risk by hiring you – no matter how qualified you are. Perform an online search for your name before you begin applying for jobs and make an effort to remove any posts or photos from social media sites that might be detrimental to your job search.
9. Your personality doesn't fit well with the team
Interviewers are not only looking for someone who can perform the job duties well, they are looking for someone who would make a good employee and fit in with the team. To make a good impression, show up for your interview on time and conduct yourself in a professional manner. Interviews are looking for someone who comes across as confident and energetic. Smiling and maintaining eye contact can make you seem more likable to a potential employer.
10. You didn't follow up
These days, most interviewers expect a "thank you" note after an interview. Sending a thank you note is a way to let the interviewer know you appreciate the time he or she spent talking to you. It is also a great way to reiterate your interest in the position. Follow up within 24 hours to make a great impression and hopefully give you an edge over other candidates when it's time to make a hiring decision.
While losing out on a job you really want is an unfortunate situation to be in, be sure to look at this experience as something that will point you in the right direction of where you really want to go. Even though you did not get this particular job, you know exactly what you want from a new job and how to best approach securing it.
One way to improve your chances of getting a job is to earn a degree. Fremont University offers degrees in Multimedia Design, Business Leadership, Paralegal Studies, and Sports Therapy.
All degree programs take just 15 months to complete, including our Bachelor's Degree Completion Program. Upon program completion, you will be prepared for a job in an in-demand field and possess the hands-on skills to excel in your career. Browse our many online resources to find out how you can take advantage of the many opportunities offered by Fremont University. If you're ready to learn more, contact us today to schedule time with a mentor to learn more about our degree programs or request a free career guide.