8 Tips to Ease Graduation Day Stress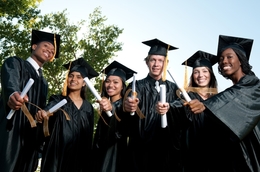 Graduation day will probably be one of the most important days of your life, so it's important to ensure that the day is as stress-free as possible. By preparing for your big day, you can eliminate some of the stress associated with graduation ceremonies. Below are eight tips to ease graduation day stress and guarantee a memorable experience.
1. Bring a camera Bring a camera to capture memories of your big day. A good-quality, small camera is best for the occasion and will be easy to carry. Have someone take pictures of you and your loved ones at the ceremony. In most cases, a professional photographer will be on-site during the ceremony giving you the option to order prints should you decide you want additional photos.
2. Make sure your phone is charged Make sure your phone is fully-charged before you leave the house because your phone will allow you to contact family and loved ones should you become separated before or after the ceremony. It can also be used to take pictures if you decide not to bring a camera.
3. Dress appropriately Business casual apparel is recommended for college graduation ceremonies. Many gentlemen opt for a shirt and slacks – with or without a tie, while ladies typically wear slacks and a blouse or a dress. The best advice regarding graduation apparel is not to wear anything too warm. The weight of a three-piece suit under a full-length gown for two hours in a crowded area could make you uncomfortable during the ceremony.
4. Wear comfortable shoes Graduation is not a time for fancy footwear. Wear a pair of shoes that you will be able to stand/walk in for extended periods of time. The last thing you want is to get blisters on your big day and be forced to limp across the stage when your name is called. Find a pair of comfortable, yet stylish shoes to wear and you will be happy you did. You might be standing for a while before you are seated at the graduation ceremony, so be prepared to stand in a comfortable pair of shoes.
5. Arrive early Nothing is more stressful than arriving to an important event late. Give yourself time to relax and get acquainted before the ceremony by arriving early. This will also give you time to meet with family and friends which will further help ease your nerves.
6. Arrange a meeting spot with family and friends Once the ceremony ends, everyone will be in a rush to leave making it difficult to spot family and friends in the crowd. You may also want to meet up with classmates and instructors, so choose a landmark where you can meet everyone after the ceremony.
7. Take business cards Graduation may be your last chance to connect with fellow students and instructors. Take a stack of business cards with you containing your phone number, email address, and LinkedIn profile information to hand out at graduation. There are many sites online that offer inexpensive business cards, or you can create your own if you prefer. You can also download an app on your phone that allows you to swap contact information with other smartphones.
8. Relax Although this might seem easier said than done, the best way to ensure that your graduation day is as memorable as possible is to relax and enjoy it. Most importantly – don't forget to smile when you step on stage!
Find out how Fremont University can prepare you for an in-demand career in just 15 months by offering accelerated degree programs and hands-on training. Fremont offers degree programs in Multimedia Design, Business Leadership, Paralegal Studies, and Sports Therapy. Contact us today to learn more about our degree programs and how Fremont can help prepare you for your future!