A Burning Passion for Education Reform
Fremont University's Chancellor Dr. Kay appeared on Business Rockstars earlier this month to delve into her journey to America, her life as an entrepreneur, how and why she started Fremont University, and her passion for higher education reformation.

Here's a breakdown of her most salient points.
1. Anecdote on starting a business.
"Information is power but action is what makes transformation. If I didn't do my research to have the full information on the market place pain and didn't ask, I would have never gotten it." She convinced a software company to donate their software to her so that she could start a college and teach people how to use it. The software company didn't know the fashion industry's pain of not having enough computer operators. The founders of the software company donated over $1 million worth of software. Thus, Dr. Kay started Art Institute of Hollywood in her garage.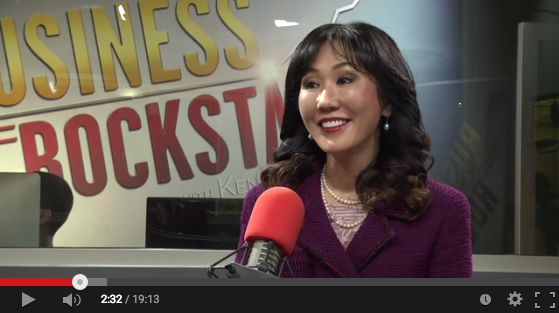 2. Advice for the Wantrepreneur (that person who wants to start a business, just hasn't yet).
"I worked 18 hours a day, 7 days a week for 10 years in my 20s, doing one thing. I never took a vacation or was even sick." Don't want. Do. They are different. To achieve anything in your life, you must be a doer. Hyper-focus and execution is what makes incredible result whatever you choose to do.
3. What's important to be a successful
entrepreneur?
"I am totally driven by fear. It keeps me on edge. I don't want to fail and am fearful that I will disappoint someone." Focus. Discipline. Momentum. Have a great team that works at the same speed and in the same direction. They make the journey so much more enjoyable.
4. What makes Fremont University so unique?
We have two very important frameworks that make the 21st century workplace education very effective. * Flipped and blended classroom. All learning is didactic and online. Professors are no longer knowledge gods, they act as curator, mentor, coach and adviser for our students. Students come to Fremont University to do projects, collaboration, and discussions. * Vertically Integrated Education. When a university owns businesses that they teach, students learn very effectively from their boss who is their professor via apprenticeship. Students will graduate with a bachelor's degree, four years of real work experience, and a promise of an interview for a job their degree is tailored specifically to do. That's what we are implementing through Fremont University Education Lab. If you are interested in knowing more about Fremont University
click here to contact us.