About Student Loans – 10 Student Loan Terms Explained
What Type of Loans Are Available to Students?
Sometimes, going into debt is unavoidable. While you should strive to avoid going into debt, if you do make sure it is for a good cause, like continuing your education. Although it can be intimidating to start your adult life with debt hanging over you, financing a good education is an investment and can be worth the expense. By earning a college degree, you will likely start your career with a better and higher paying job than you would have without a degree.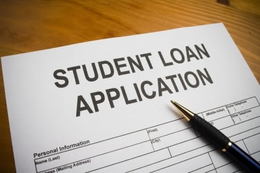 Student loans are a vital part of the financial equation for most people when it comes to paying for college. Understanding how student loans work isn't always easy. From subsidized loans to borrower grace period, there are several terms you should be familiar with before applying for student loans. Below are explanations for 10 student loan terms that will help you understand the process better. Continue reading to learn everything you need to know about student loans.
1. Subsidized Loans
What are Subsidized Loans? Subsidized loans are awarded based on financial need and don't require students to pay interest until after they graduate. With a subsidized loan, the government "subsidizes" or pays the interest until the student graduates which means that the student doesn't have to worry about interest adding up while they are still in school. With unsubsidized loans, on the other hand, the government does not pay interest while the student is in school. You can expect to see this term when you receive a letter back from your school indicating the amount of subsidized and unsubsidized loans you qualify for after filling out the Free Application for Federal Student Aid (FAFSA).
2. Default Rate
What is Default Rate? When a student defaults on a loan, it means he or she hasn't kept up with the payments. The default rate is a measure of the percentage of borrowers who are more than a specified number of days late, typically 360 days for federal education loans and 120 days for private student loans.
3. Grants
What are Grants? Grants are awarded based on financial need and do not have to be repaid. Grants can cover some or all schools costs. The most common types of grants are Federal Pell Grants and Federal Supplemental Educational Opportunity Grants. Even if you think you or your parents make too much money, it is still a good idea to complete the Free Application for Federal Student Aid to find out if you qualify for some amount of federal, state, or university grants.
4. Expected Family Contribution
What is Expected Family Contribution? The expected family contribution is a dollar amount determined by information included on the FAFSA that represents how much money your family should be able to contribute to your college education. The Extended Family Contribution is used by schools to determine how much financial aid a student is eligible for. Your family's taxed and untaxed income, assets, and benefits (such as Unemployment or Social Security) are all factored into the formula.
5. Borrower Grace Period
What is a Borrower Grace Period? Fortunately, you don't have to start repaying your student loan the day after you graduate. Federal loans offer a grace period before you begin repayment, know as the Borrower Grace Period. The grace period is six months for a federal Stafford Loan and nine months for a federal Perkins Loan, and can be extended depending on your financial circumstances.
6. Deferment
What is Deferment? Sometimes circumstances prevent borrowers from making regular payments on their student loans. When that happens, borrowers can request a deferment from their loan provider which is a temporary period during which the borrower is not required to make payments. During a deferment, the government pays the interest on subsidized loans, while the borrower is responsible for the interest on un-subsidized loans. Until a deferment is granted by the loan provider, borrowers must continue to make payments.
7. Forbearance
What is Forbearance? If you're not eligible for deferment, you can ask for forbearance which allows you to temporarily postpone payments or make smaller payments. A forbearance is similar to deferment, except the government does not pay interest on subsidized loans. If the borrower does not pay the interest on the loans, the interest continues to accrue and is added to the balance of the loan.
8. Independent Student
What is an Independent Student? When applying for financial aid you will need to indicate if you are an independent student or whether you are still dependent on your parents for support. This is an important part of your financial aid application because being an independent student means you might be eligible for more aid. Some of the factors that determine if you qualify as an independent student include being at least 24 years-old, being married, being a graduate or professional student, or having dependents other than your spouse.
9. Dependent Student
What is a Dependent Student Dependent students are those who don't meet the criteria to be considered an independent student. It is important to know that even if your parents aren't helping you pay your tuition, you can still be considered a dependent student. Your answers on the FAFSA will determine whether you are an independent student or a dependent student.
10. Repayment Schedule
What is a Repayment Schedule? A Repayment Schedule tells you when your payments are due and the term of the loan. With federal loans, you have the choice of several different types of repayment plans. With standard repayment plans, for example, you pay a fixed amount each month and have up to 10 years to pay back the loan. Your loan provider will provide you with information regarding your repayment schedule, including the payment amount and the date you have to start making payments.
For some students, a college education is impossible to obtain without borrowing money to pay for it.  To help students finance their educational endeavors, there are many student loan options. These options come in many shapes and sizes, and many have their own regulations for qualifying and repaying.
Who Qualifies for a Student Loan?
Almost everyone can qualify for a student loan. The first step in applying for a student loan is determining your status. Are you an independent student or one who is still dependent on your parents? Typically, student loans are awarded to "independent" individuals who are:
Over the age of 24
Married at the time of applying.
On active duty or are a veteran of the armed forces.
Have children who receive at least half of their support from you
To qualify for financial aid, you must be working toward a degree in an eligible program.
If you're considering going to college and need financial assistance to pay for school, Fremont University can help. Our Financial Aid department is here to help you obtain the money you need to pay for your education. Fremont University offers in-demand degree programs that will prepare you for a rewarding career in just 15 months, including Multimedia Design, Business Leadership, Paralegal Studies, and Sports Therapy. Find out how Fremont University can prepare you for a rewarding career by offering a career-focused education. Contact us today to learn more or request a free career guide.
Additional Resources For Students Researching Financial Aid
Here is a breakdown of some additional student loan options:
Stafford Loans – Stafford Loans are a common type of federal student loan. Money for these loans comes directly from the Federal Direct Student Loan Program (FDSLP), a federal government program. There are two types of Stafford Loans:

Subsidized – With this type of loan, the student will not be required to make payments until after graduation. The interest rate is typically at or below 6.8%. It is important to note that subsidized loans are reserved for students who can demonstrate a financial hardship. Most go to students whose families' annual incomes are below $50,000.
Unsubsidized – With this type of loan, the student is responsible for paying off all the interest. Interest builds up at a fixed rate of 4.66 percent while the student is enrolled in school. Payments are typically deferred until after graduation. Unlike subsidized loans, all students are eligible for this type of loan. The annual Stafford Loan limit ranges from $5,500 to $12,500.

Perkins Loans – Perkins Loans are considered a more desirable option than Stafford Loans. Perkins Loans offer a fixed interest rate of 5 percent. They are all subsidized, so the government pays any interest accrued while the student is attending school and for a short period after graduation. Perkins Loans have more stringent eligibility rules because of their favorable terms. This type of loan is reserved for students who show exceptional financial need. Eligible undergraduates may borrow up to $5,500 in Perkins Loans annually, for a total of $27,500. Graduates students may borrow up to $8,000 annually. The total cap is $60,000 and is based on the amount borrowed as an undergraduate and graduate.
PLUS Loans – This type of loan is available for both parents and graduate students. Parent PLUS loans are for parents of dependent undergraduate students, while Grad PLUS loans are for graduate students themselves. PLUS loans are funded directly by the federal government, but offer the extra perk of having no maximum borrowing amounts. These funds can also be used to cover any education costs not covered by other financial aid. They also have a fixed interest rate of 7.2%.
Private Education Loans – Private education loans, which can also be called alternative education loans, are an option for students and parents when other sources of financial aid fail to fully cover the cost of school. These loans are provided by private lenders and do not use government funding. As a result, private education loans are more similar to personal loans than student and parent loans. To qualify for this type of loan and receive a favorable interest rate, your credit history will play a big factor.
Health Professions Student Loans – Specialized student loans are available for students studying in specific areas of medicine, like nursing or veterinary medicine. Each loan offers its own requirements for qualifying.


*In no way does Fremont University promise or guarantee employment or level of income/wages