Accelerated Degree Program Basics: What You Need to Know Before Choosing a Program
What is an Accelerated Degree Program?
An accelerated degree program is exactly what it sounds like. It is a specialized degree program that typically consists of short classes, usually online. A traditional in-person college course lasts about 16 weeks, but an accelerated program compresses courses into shorter five-, eight- or ten-week sessions.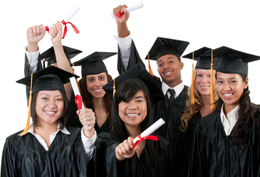 Accelerated degree programs are an appealing option for busy adults and those who want to earn a degree fast so they can begin working in their field. Before you choose an accelerated degree program, however, there are a few things you should consider. Continue reading to learn about accelerated degree program basics and how to find the program that best suits your needs.
Requirements for enrolling in an accelerated degree program
To earn an accelerated degree, you need to be somewhat unconventional and you also need to be able to learn fast. This may seem like a no-brainer, but it's a crucial factor to consider. You will also need important resources. Pick up some reference materials and preparation guides before you begin your program. These are the helpful assets for accelerating your degree.
Maximize your transfer credits
If you have attended college in the past and earned some credit, be sure to maximize your transfer award. Transfer credit is crucial for degree acceleration. Many schools are hesitant about accepting transfer credits, however, English I is English I no matter which school it was taken at. In addition, you may be able to convince your school to accept your transfer credits even if your college experience was over 10 years ago. If your transfer credits are in a field unrelated to your current interest or degree program, try to get your school to accept the transfer hours as elective credit. The basic idea is to avoid taking any classes you have already taken at another college, even if it was a while ago. If your prospective school is reluctant about accepting legitimate college course credit, find another school.
Accumulate college credit as inexpensively as possible
As mentioned before, English I is English I so you should try to take this course and other required courses as cheaply as possible. When it comes to affordable options and widely accepted transfer credit, the CLEP Exam is the best bet. Before you start studying for CLEP's, however, make sure your school will accept the credit. A call to the Registrar's office can answer your questions.
Take advantage of work and life experience credit
Find out if your school offers credit for work and life experience. Credit for work and life experience is a legitimate way to accumulate hours toward your degree and is worth the time and effort involved. Be sure to follow your school's procedures very closely when completing your work and life experience. Most schools will require a portfolio with documentation, and specific processes and requirements unique to them.
Choose a flexible school
The key to finding the right school and the right accelerated degree program is flexibility. Find a school that understands and values the time and money you are about to devote to your education. Your school's policies will either help or hinder the time it takes to complete your degree. As you evaluate schools and meet with representatives, inform them of your plan to accelerate. If the school seems inflexible or reluctant to commit to your plan, find another school.
Beware of scams
There are many programs that promise a "degree" with no courses, books, or tests. Diploma mills are one example. Diploma mills charge a small fee to review your work and life experience, after which they grant you a degree. Needless to say, those types of degrees always come back to haunt you. If you list a degree from one of these institutions on your resume your reputation may suffer when people find out your degree is fake. Stay away from programs that seem too good to be true and keep in mind that if a program promises to grant you a degree in a very short amount of time, it's probably a scam. One way to ensure that you are dealing with a legitimate school is to verify that it is accredited. This is crucial when it comes to finding a valid degree program. You wouldn't want to spend money and time earning a college degree and find out later that your degree isn't valid.
Determine how much you can accelerate
A "four year degree" is just a figure of speech. Just because a college sets the time frame, it is not binding, and just because a school claims a bachelor degree is a "four-year degree" does not mean you have to take four years. There are many legitimate methods for reducing the time to complete a degree. For example, adding summer courses to your standard semester schedule or choosing a year-round school makes it possible to accelerate, without overloading your class schedule or finding alternative methods for amassing credit. Most career colleges also offer accelerated degree programs and are a great option for those who want to earn a degree fast. Career colleges provide career-specific, skill-oriented training, preparing students to enter the workforce the moment they graduate – in a fraction of the time it takes at a traditional four-year college.
Fremont University offers accelerated degree programs that take just 15 months to complete. Our accelerated associate degree programs include: Multimedia Design, Paralegal Studies, and Sports Therapy. Our Degree Completion Program in Business Leadership also allows students to earn a bachelor degree in 15 months by applying previously-earned college credits. Day and night classes are available, as well as online degree programs that allow students to complete coursework at their own pace. Contact us today learn more about our degree programs or to request a free career guide.
Student who participate in this type of program earn a degree faster by studying faster. While you will get through the program faster, it is important to note that you still take just as many courses to complete an accelerated degree as a traditional degree. However, you have the advantage of learning and earning faster.
Accelerated Degree Program: Pros
The main pro of an accelerated program is that students get out of school and into the workforce as quickly as possible. By speeding up this process, you will likely find a job and earn money more quickly than the average student. To get students through the program more quickly, accelerated programs often utilize shorter periods for classes, with quarters or terms taking anywhere from between 5 and 12 weeks to complete. In contrast, traditional programs are completed in semesters, which means that more time is spent taking each course.
Along with offering students an option for completing degrees faster, accelerated degree programs also offer advantages in the financing and scheduling of classes. In fact, some accelerated programs actually cost less than traditional programs and are designed with convenient and flexible scheduling options to accommodate a variety of students. Typically, adult learners with full-time jobs and families find accelerated degree programs extremely advantageous.
Accelerated Degree Program: Cons
While accelerated degree programs offer a variety of benefits, they are not for everyone. One "con" associated with accelerated degree programs is that they require a significantly larger investment of time and energy than courses that are traditionally-paced. While the promise of earning a degree faster can be extremely enticing, faster can quickly become too much and lead to failing and/or dropping-out. Along these lines, some subjects are going to be more difficult to learn on a compressed timetable. Subjects like math and computers can greatly benefit from a longer learning period.
As you can see, the amount of time spent on an accelerated degree program can be both a benefit and a disadvantage. With an accelerated program, you will do more in less time. Because the programs will include the same number of courses with the same amount of coursework as a traditional four-year program, some students may find it to be too much. Longer semesters may be more beneficial to some students as they give students more time to study and learn each subject thoroughly. In some cases, it really comes down to your personality type. If you work well in a face-paced environment and thrive on fast-approaching deadlines, the potential disadvantages of an accelerated degree program may not be disadvantages at all.
*In no way does Fremont University promise or guarantee employment or level of income/wages