Fremont University 2013 Graduation and Commencement Ceremony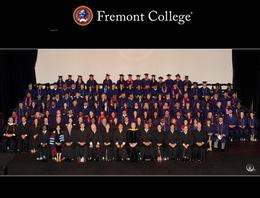 On Saturday, June 1, 2013 Fremont University will hold its 27th graduation and commencement ceremony. The ceremony will take place at the Wilshire Ebell Theatre and will begin at 12:00 pm.
This is expected to be Fremont's largest graduating class to date. Dr. Dexanne Clohan, Health South Chief Medical Officer, will deliver the keynote speech to the graduates and audience consisting of family, friends, and community members. Lee Paige, Owner of Novus Lumen Consulting and Adjunct Instructor at Fremont University of Legal Studies, will be the Master of Ceremonies for the event.
This will be his fifth consecutive year leading Fremont University's graduation ceremony. Valedictorian, Honorable Distinction, and Instructor's Choice Awards will be handed out before the conferring of degrees. Student Ambassadors will also be recognized at the ceremony.

Time and Date
June 1, 2013 12pm – 2pm
Location
Wilshire Ebell Theatre 4401 W 8th St
Los Angeles, CA 90005
For more information or tickets, call (213)355-7777
View the 2013 Fremont University graduation video here.