Fremont University Holds Commencement for Largest Graduating Class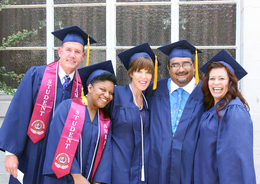 On Saturday, June 1, 2013 Fremont University held its 27th graduation and commencement ceremony at the Wilshire Ebell Theatre. There were 209 graduates total, and over 1,000 people in attendance at the ceremony. Of the 209 graduates, 22 students graduated in business, 56 in legal studies, 119 in healthcare, and 12 in design.
Lee Paige, Owner of Novus Lumen Consulting and Adjunct Instructor at Fremont College of Legal Studies, was the Master of Ceremonies for the event. This was Lee Paige's fifth consecutive year leading Fremont University's graduation ceremony. The United States Naval Sea Cadet Corps and Fremont University student, Kinsey Lewis, led the Procession with a Presentation of Colors and National Anthem. Dr. Dexanne Clohan, HealthSouth Chief Medical Officer, delivered the keynote speech to the graduates and audience consisting of family, friends and community members.
There were three Academic Distinction Awards for Valedictorian presented during the ceremony. The Valedictorian Award recipients were: Martha Kline (College of Business), Anthony Torrero (College of Legal Studies), and Sheila Maingi (College of Healthcare). During her Valedictorian Speech, Martha Kline talked about persevering when faced with challenges. She said, "When I first enrolled at Fremont University, I was unsure if I would survive half of a school year, and in a blink of an eye, here we are. My only regret is not pursing my degree sooner. Regret is the only thing you cannot change, but we can avoid it from happening. We are all much better than what we think we are. We just have to challenge ourselves; there is no other way of finding out. I must say though, it requires discipline and time management as well as motivation."
Valedictorian, Anthony Torrero, reflected on his experience with the faculty at Fremont University and how his instructors motivated him along the way. He said, "While at Fremont the staff really helped all of us students explore our true inner potential. They have made us realize that our dreams can become reality, and our passions are actually within reach. The staff is responsible for surfacing a new confidence in us all. I loved the guidance by them so much that I got involved with the Student Ambassador program. I eventually promoted my way to President of the Student Ambassadors and used that position as a vehicle to bridge the gap between the students and staff."
Valedictorian, Sheila Maingi, offered the following words of inspiration during her Valedictorian speech: "My advice to my fellow graduates and myself today is to do one thing at a time. Give each experience your full attention, run your race and run it well, for success comes to those who do not waste time comparing what they are doing to what others are doing. Success enters the house of the person who says, "I will do my best" every day. Be thankful, chase your dreams, and if you find that you are at the end of a rope, remember to tie a knot and hang on!
What awaits you is already yours. Believe, trust, breathe, love and live." During the ceremony, nine students were also recognized for Summa Cum Laude (4.0 Cummulative GPA), including Alexandra Montecino, Amy Lachica, Anthony Torrero, Carmella Love, Darlene Marquez, James Rufer, Lovely Santos, Rebecca Friedman, and Sharon Delehant. Several students were also recognized for Magna Cum Laude (3.50-3.99 GPA).
Honorable Distinction Awards were given out during the ceremony, including the Spirit Award which was given to Rabiya Rehana from the College of Business, Garrett Williams from the College of Legal Studies, Chris Kang from the College of Healthcare, and Alexander Vargas from the College of Multimedia Design. Spirit Awards were given to students who consistently demonstrated loyalty, commitment, dedication, and service, building spirit and support among fellow students and the College. Instructor's Choice Awards were given to students who demonstrated exceptional leadership in the classroom, contributing to a positive classroom environment, and assisting fellow students to succeed.
Recipients of the Instructor's Choice Award were Delora San from the College of Business, Carmella Love from the College of Legal Studies, and Kelsey Dragus from the College of Healthcare. Several students were also recognized for their efforts as Student Ambassadors. These students worked with other students to help them adapt to college life and succeed in their classes. Student Ambassadors offered assistance with understanding course content and informing students about available resources at the College.  A number of on-ground and online career diploma programs were welcome to attend the ceremony.  After awards were presented, the conferring of degrees took place beginning with the College of Business, followed by the College of Legal Studies, College of Healthcare and College of Design.