Fremont College Introduces "Crash-a-Course" Day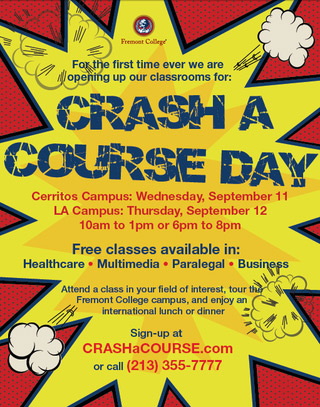 For the first time ever, Fremont College is opening its classes for Crash-a-Course Day. Students are invited to bring friends or family members to class for free on September 11th at the Cerritos campus and on September 12th at the Los Angeles campus. Participants of the event will attend class, tour the Fremont College campus, and enjoy an international lunch or dinner. Free classes are available in Healthcare, Multimedia Design, Paralegal Studies, and Business.
Prizes will be awarded to students who bring a friend or family member to class. Prizes include Fremont College t-shirts, sweatshirts, and backpacks.
Participating restaurants include La Salsa, Panda Express, Numero Uno, El Pollo Loco, and In-N-Out Burger.
Crash-a-Course Day – Cerritos Campus
Date: Wednesday, September 11, 2013
Time: 10am to 1pm or 6pm to 8pm
Address: 18000 Studebaker Road Suite 900, Cerritos, California 90703
Crash-a-Course Day – Los Angeles Campus
Date: Thursday, September 12, 2013
Time: 10am to 1pm or 6pm to 8pm
Address: 3440 Wilshire Blvd. 10th Floor, Los Angeles, California 90010
Visit www.CRASHaCOURSE.com to sign up
or call 1-800-FRE-MONT (1-800-373-6668)