Fremont College New Student Orientation 7/28/2012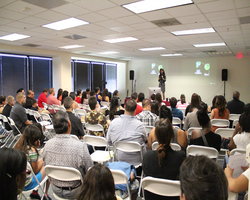 Student Orientation took place at the Cerritos campus this past Saturday. There were 54 new students in attendance. After introductions, several members of the Fremont staff and faculty talked to the students about what to expect and discussed some of the resources available to Fremont College students.
Dr. Kay discussed the innovative teaching methodology used at Fremont College known as Professional Action Learning (PAL). She explained how PAL works and why it is an effective method for helping students learn better and faster. Afterward, students divided into groups according to which college they belong to.
Each group from the College of Design, College of Business, College of Legal Studies, and College of Healthcare then performed a skit specific to their college. At the end of the presentation, Fremont College graduates talked about their experience at Fremont College and offered advice and motivation to the new students.