Fremont University Welcomes Guest Speaker Akbar Gbaja-Biamila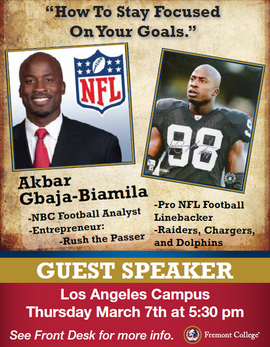 On Thursday March 7th, guest speaker Akbar Gbaja-Biamila, Pro NFL football player and Entrepreneur, will discuss "How to stay focused on your goals." Akbar Gbaja-Biamila is an NFL Linebacker and head of the Rush the Passer program.
The event will take place at 5:30pm at the Los Angeles Campus and will be broadcasted to the Cerritos campus.
Akbar Gbaja-Biamila epitomizes the new age athlete turned entrepreneur and social crusader. The 33 year old Southern California native, known as AGB by friends, parlayed a six year stint in the National Football League into a career where he can use his broadcasting and athletic skills to draw attention to cause-related platforms that will make a difference in the lives of others.
One of seven children of Nigerian immigrants, Gbaja-Biamila, whose first name means "great" in Arabic and last name, means "big man come save me," from his paternal great-great-grandfather who stood seven feet tall and was the moderator in the village in which he lived, will be featured this summer in Mark Burnett's new reality series "Expedition Impossible" on ABC, as well as being one of the new voices on NBC Sports Network last fall, calling college football games for the Comcast/NBC-owned network.
That work, along with other speaking engagements, will assist Akbar in his real life's work, assisting children through The Asomugha Foundation, which he has been involved since 2003. He is also a big supporter of the fight against childhood obesity, the cornerstone of First Lady Michelle Obama's "Let's Move" campaign and for financial literacy for young people. Gbaja-Biamila has always lived an active lifestyle, one that combined social consciousness with athletic success. He helped his alma mater, Crenshaw High School in Los Angeles (where he is again volunteering to assist the school's athletes in training and life skills), win back to back city and state basketball championships in 1996 and 1997 before moving on to the gridiron for his senior season.
His defensive prowess earned him all-league and all-conference selections and led to a scholarship to San Diego State University, where he was all-Mountain West Conference in his senior year of 2002. However it was off the field where Akbar began making his biggest impact as an undergrad. He joined the group Athletes For Education, one of a handful of collegiate players that were part of the outreach group, and worked with founder Steve Haynes and a group of San Diego-area professional players to go into communities and work with young people on life skills. Akbar's passion was speaking about financial literacy, and he spent hours working with youth in San Diego about the value of investing and understanding how the financial system worked.
He also worked on reading and math programs with impoverished youth, giving him insight as a young athlete into the value of community assistance. An undrafted free agent in 2003, Gbaja-Biamila signed with the Oakland Raiders and spent two seasons with the silver and black, before moving on to spend time with both the San Diego Chargers and Miami Dolphins before retiring in 2008. All the time in professional football, Akbar was looking for what's next in his non-playing career, and how he could use those skills and assets to help others.
In 2005, he was selected as one the NFL's first athletes into their Broadcast Boot Camp, held at NFL Films in Mount Laurel, N.J., and designed to give 20 players a short and rigorous look into the skills needed to embark on a broadcast or journalism career after their playing days were over. He also took advantage of some time between playing stints to volunteer at KSWB, the NBC affiliate in San Diego, and ended up as the co-host for "Football Night in San Diego," while he awaited his next chance back in the pros. He hosted the show for two and a half seasons (2006-2008) before getting one last look at the NFL with the Miami Dolphins. Another part of that time was spent completing a certified Entrepreneurial Management Program at
The Business School of Wharton/ University of Pennsylvania, while another part was spent commuting back and forth from San Diego to Los Angeles, assisting his father Mustapha, who was battling the effects of Parkinson's Disease. With his playing career over, Akbar turned his focus to the broadcast booth in addition to his philanthropic work, serving as an analyst for the Mtn. Network and CBS Sports Network for two years, while also taking voice and acting classes.
In 2010 was approached by reality producer Mark Burnett to be part of a three-man athlete team for his latest project on ABC. That role, and the exposure that comes with it, will help continue to further Akbar's broadcast and activist roles. Akbar, whose older brother Kabeer played 9 years in the NFL with the Green Bay Packers, lives in the Los Angeles area with his family.