How College Career Development Services Prepare You for a Career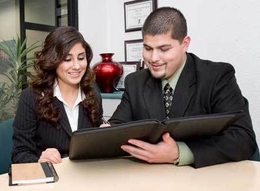 Most college students share the same goal. They want to use their college education to help them pursue a career. College career development services help college students meet that goal by providing a variety of services. Below are some basic services you can expect from your college's career development department. If you are in the process of choosing a college, you may want to make sure the college you choose offers these valuable services.
Career assessment and decision-making
The career development services team at your school will start by helping you figure out which career is right for you using self-assessment tools that examine your interests, personality, and abilities. The purpose of this is to help you decide on an academic major that will help you meet your career goals.
Career exploration
The career services department will help you learn about various occupations. You will also be directed to resources you can use to gather information about career options. In most cases, the career services department remains in contact with alumni who can discuss their careers with current students, allowing students to further explore their career options.
Résumé writing and cover letter writing
Career services offices often help students write their résumés and cover letters. They also conduct workshops and provide individual résumé critiques. This is a valuable service because it provides students with insight regarding what employers in their field are looking for in a résumé and cover letter.
Job Interview Preparation
Career services departments typically host workshops on how to prepare for a job interview. These workshops provide tips on everything from how to dress for an interview to answering difficult job interview questions. These workshops give students the opportunity to ask any questions they might have regarding interview preparedness.
Job Placement
Career placement offices usually keep a list of job openings. They also post part-time job opportunities for current students and inform students of internship opportunities. Career development departments often host job fairs where employers visit the campus to recruit students who are about to graduate.
Credential Management
Some career services offices maintain student files containing letters of recommendation. They forward these letters to potential employers upon the student's request. Choosing a college that offers career development services is key. A college that prepares you for a career from the moment you enroll is the best way to ensure you find a stable, rewarding job upon graduation. Fremont University offers the most thorough of any other career college.
From our free career test to our résumé writing workshops, you will be prepared for a career the moment you graduate. We offer degree programs in several in-demand fields, including Multimedia Design, Business Leadership, Paralegal Studies, and Sports Therapy. Flexible scheduling and online degree programs are available. Request a free career guide today to learn more about how Fremont University can prepare you for the career of your dreams!