How Learning Teams Help You Develop Career Skills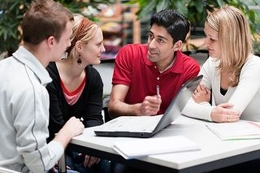 One of the best ways college students can obtain the skills they need to succeed in the workplace is by learning to work in teams. Few succeed in business without knowing how to work well with others. Teamwork is encouraged in many college settings, especially in schools that offer smaller class sizes. By teaming up in self-managed groups, students can learn the following career skills.
Collaboration
When it comes to learning teams, students must work together and focus their individual strengths on completing a task – a necessity in today's business world. More people are involved in the process of getting goods or services to consumers than ever before in the workplace, so team members must rely on each other to complete a task. The collaboration skills students obtain when working in learning teams helps prepare them for a career and is one of the most important benefits of teamwork.
Communication
Specific information must be relayed to the learning team in order to complete a task or project. Things that must be discussed include each team member's progress and whether each person is on track with their portion of the project. Adhering to agreed-upon timelines and communicating regularly regarding progress helps ensure the team does its best.
Organization and Planning
Most class assignments involve multiple steps which require organization and planning. The first step in completing an assignment within a group is to determine what is needed and who will complete each task. Mastering workflow management techniques is a valuable skill that will prove beneficial in any career.
Flexibility
Learning teams teach you to be flexible and able to adjust to changing requirements in the business world. Even the most well-planned and executed projects can suffer due to missed deadlines, goal changes, and misunderstandings. Successful teams work together to figure out how to get their projects back on course.
Time Management
Busy students who juggle school, work and family are faced with the decision of what they need to get done and what they can dismiss. Listing tasks in order of importance and estimating how long each task will take to complete is the best way to accomplish this when working as a team. The ability to prioritize and know what's key to accomplishing goals and what can be left aside are important components to managing time.
Social Skills
The value of getting along with others should not be underestimated in school. Those who understand the importance of social skills are more successful in business and in life. Knowing how to be a member of a team is the greatest benefit you will get from working in teams. This is a skill students will use for the rest of their lives.
Accountability
Nothing can be accomplished when working in teams unless everyone commits to shared goals and takes responsibility for doing their specific tasks to achieve those goals. Learning to be accountable for your portion of a project when working in learning teams increases the likelihood of career success later on.
Fremont University realizes the importance of teamwork and offers plenty of opportunity for students to work together. Working as a group helps students become more confident and provides them with the communication skills they need to succeed in the workforce. Our students appreciate what they learn from their fellow classmates and are well-prepared to enter the workforce because of their experience working collaboratively. Our small class sizes also make it easy for students to interact with each other and work as a team. We offer degree programs in several in-demand fields, including Multimedia Design, Business Leadership, Paralegal Studies, and Sports Therapy. Flexible scheduling and online degree programs are available. Request a free career guide today to learn more about how Fremont University can prepare you for the career of your dreams!