How to Become a California Paralegal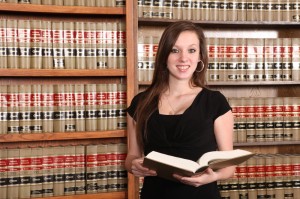 If you'd like to become a paralegal you first need to complete a paralegal degree and ideally work one year under the supervision of a lawyer in California who is licensed for three years or more or works in the California federal court system. It is recommend that you complete a paralegal program approved by the American Bar Association (ABA) like the one at Fremont University.
Is a Paralegal Career Right For Me?
When thinking about a career in law a number of people immediately think about becoming an attorney.  The path to becoming a lawyer is an arduous one, involving at least three full years of exams, papers, and tuition charges culminating in the dreaded Bar exam. While becoming a lawyer is an option, it is not the only option for those who want a career in the legal field.  Many people have an interest in the law, but may lack the time and money to undergo years of rigorous training, not to mention the subsequent job search in a highly competitive market. If you can relate to the latter scenario, consider pursuing a career as a legal assistant or paralegal instead.
What Does a Paralegal Do?
It is only natural to wonder what does a paralegal do?  As a paralegal, you have the opportunity to participate in the legal process by acting as a lawyer's assistant. The job entails more than simply performing office tasks; it encompasses preparing arguments, managing cases, interviewing witnesses, drafting legal documents, analyzing evidence, and researching legal codes among a slew of other duties. While paralegals cannot offer legal advice, they most definitely play an important role both in and outside of the courtroom.*
What Do You Have To Do To Become a Paralegal?
Students interested in a paralegal associate's degree will take a combination of general education classes as well as coursework specific to paralegal work. Master level degrees are offered by some institutions but this level is not required to start an entry level position.
Getting Your Associates Degree in Paralegal Studies

Ready to learn how to become a paralegal in CA?  In the Los Angeles area, there are several campuses which offer programs in Paralegal Studies, but Fremont University is one of only a number in the state of California approved by the American Bar Association. The Paralegal program at Fremont takes 15 months to complete – a far cry from the average three years of study it requires to earn a JD and prepare for the Bar exam.
Careers
If you are still researching career options in the legal field you might be wondering are paralegals in demand?  Los Angeles Paralegals have several options in terms of their career path, from assisting entertainment lawyers in the fast-paced worlds of film and music, to joining a firm specializing in family law, patent law, or another such law field.
In short, you'll have myriad options at your fingertips upon graduation. While studying, you'll have the time to explore your interests and consult Fremont's many advisors to decide what the best course of action is for jump-starting your career Now's the time to become a California paralegal with an
ABA-approved Paralegal College
Fremont University  is ABA certified and offers an accelerated 15 month paralegal program. If you're ready to get more information about our paralegal school simply fill out the form on this page.  Learn more about the Fremont University Paralegal Studies program by contacting us today.
* Paralegals may not provide legal services directly to the public except as provided by law. In no way does Fremont University promise or guarantee employment or level of income/wages.