How to Become a Physical Therapist Aide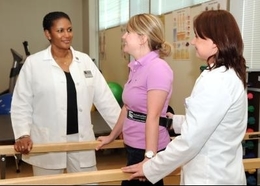 According to the Bureau of Labor Statistics, Physical Therapist Aide jobs are expected to increase 30% by the year 2026, which is much faster than average. This means that skilled Physical Therapist Aides may be in high demand. If you are interested in a Physical Therapist Aide job, you will first need to determine if a career in this field is right for you. Continue reading to learn how to become a Physical Therapist Aide.
Determine if you have the right qualities
Before becoming a Physical Therapist Aide, you need to determine if you have the traits that are common of Physical Therapist Aides. Since Physical Therapist Aides work in a field that provides a service to others, those considering a Physical Therapist Aide career should have good people skills and enjoy helping others. Physical Therapist Aides should also have the physical endurance and strength to assist clients with physical activities, such as exercises and massage. Compassion is another desired trait of Physical Therapist Aides since you will be working with people who are injured or disabled.
Be prepared for the job duties of a Physical Therapist Aide
As the title implies, Physical Therapist Aides assist Physical Therapists. They employ a combination of skills, including physical strength and the sensitivity to offer assistance in a compassionate manner. Physical Therapist Aides might assist patients in and out of the therapy area of a clinic, offering aid when needed. They help patients with various exercises, provide therapeutic massages, support or lift clients who have physical disabilities or injuries that prevent them from moving freely, set up equipment, monitor client progress, and help with clerical tasks. Many patients, after major surgery or being treated for injuries from an accident, are unable to return to normal life without physical therapy.
Decide if the work environment is right for you
A Physical Therapist Aide might work in private physical therapy clinics or doctors' offices. Many may also work in hospitals and assisted living facilities. A certified Physical Therapists may hire at least one Physical Therapy Aide, if not more.
Earn a degree
Physical Therapist Aide jobs will likely require a minimum of a high school diploma, however, those who have a diploma from an accredited school that specializes in physical therapy aide or sports and rehabilitation therapy may have more opportunities and better pay. A good degree program will provide plenty of hands-on training and offer pertinent coursework.
Apply for Physical Therapist Aide jobs
Look online or inquire at physical therapy clinics, assisted living homes, and hospitals. Although the requirements might be slightly different, try also searching for Physical Therapist Assistant jobs online. This will give you more options and will expand your results.
Get the training you need to work in a stable, rewarding field as a Physical Therapist Aide by enrolling in the Sports and Rehabilitation Therapy program at Fremont University. The Sports Therapy program takes just 15 months to complete and provides training in massage, anatomy, and more. You will receive an associate of science degree in Sports and Rehabilitation. An associate's degree in Sports and Rehabilitation Therapy can also prepare you for a career as a Physical Therapist Aide once you have the necessary practice and certification. Contact us today to enroll in one of our in-demand degree programs – space is limited!