How to Choose a College that's Right for You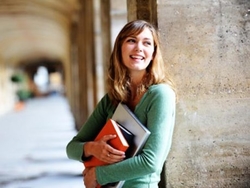 Choosing the right college takes time and thorough research. There are many factors to consider when choosing a college, including your long-term career goals and whether the college is a good fit. An important thing to keep in mind when choosing a college is that just because a college is perfect for someone else doesn't mean that it's a good choice for you. Continue reading to find out how to choose a college that's right for you.
1. Begin with who you are and why you are going
Before you start your search for the perfect college, you must examine your reasons for going to college and your long-term goals. What are your abilities and strengths? What are your goals in life? Are you socially self-sufficient or would you prefer a college that has a small, family-like environment? Are you eager to finish college fast so that you can start your career right away or do you prefer the typical four-year plan most colleges offer? Your family and friends can help you answer these important questions.
2. Focus on your academic goals
Determine what you want in an education. Do you want to be trained for a specific type of work or would you prefer a more general education? A good question to ask each college you are considering is: How does the college rank in the major you want to study? All universities are stronger in some areas and weaker in others. One indication of how much emphasis a university places on a particular program is how many students are studying in that program compared to other majors at the school as well as how many courses are offered in the program.
3. Remember that large colleges are not always better
College is a time to explore, and a smaller community is more conducive to exploration. Enrolling at a large college doesn't guarantee the best education. It is not the number of people, rather the type of people and the type of community that will determine how well you learn in college so never choose a college based on how many people attend or how well-known it is.
4. Keep in mind that prestigious colleges don't guarantee success
Think of the people you know who are successful and find out where they went to college. You will most likely find that a person's success in life has less to do with the choice of college than it does with the experiences and opportunities they encountered at college. Most employers are looking for skills and experience, not whether you went to a well-known college. During your search for colleges, ask about student outcomes in terms of graduation rate and the percentage of students who find employment in their field after graduation. You will find many colleges you have never heard of that outperform Ivy League and name-brand colleges.
5. Seek out personal recommendations
One of the best ways to get started finding a college is to speak to those around you. Talk to your school counselor, teachers, family, and friends. The people who know you best will have specific reasons for recommending a school – some of their choices might make sense to you and some might not. Take their suggestions into consideration, but remember that ultimately, choosing a college that you're happy with is up to you.
6. Don't reject a college based on cost
Assuming you can't afford college based on the tuition costs is a big mistake. If you research all of your options, you will find a college that is affordable and offers everything you need. Financial aid can help you cover some or all school costs in many cases.
7. Choose a college that is a good fit
Choosing a college because it is ranked high on a list or because your friends are going there doesn't take into account who you are and what your goals are in life. Finding a good fit requires time and research. Visiting college websites and learning about events they host as well as guest speakers who have visited the school is one good way to find out if the college fits well with your interests and goals. Another good idea is to arrange a visit to the campus, if possible. Take time to explore and learn about the school. You'll be able to get a feel for whether the
Fremont University is a great choice for those who are looking for small class sizes, hands-on training, accelerated degree programs, a great education and supportive staff and faculty who truly care about the success of their students. We offer degree programs in several in-demand fields, including Multimedia Design, Business Leadership, Paralegal Studies, and Sports Therapy. Contact us today to arrange a visit to our Cerritos college campus or Los Angeles college campus or request a free career guide to learn more about how Fremont University can prepare you for the career of your dreams!