How to Make a Good First Impression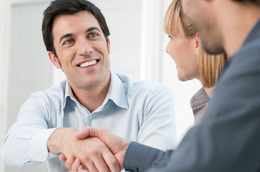 You never get a second chance to make a first impression. Whether you're on a job interview or a date, the first few minutes of interacting with another person can determine whether future interactions will occur. Continue reading for valuable tips about how to make a good first impression in any situation.
Make sure you are dressed appropriately for the situation
Most people like to claim they are not judgmental, but the truth is we do judge people on based on the way they present themselves. One of the first things people will notice about you is the way you are dressed. Your clothes, hair, and jewelry speak volumes to people you meet and can quickly give the right or wrong impression about who you are. This is why it is important to find out ahead of time what type of apparel a situation calls for and dress appropriately. Dressing appropriately (rather than being under-dressed or overdressed for a situation) will help you feel more comfortable and at ease when interacting with people you have just met.
Be mindful
If you want to make a good first impression, be mindful when interacting with someone new. Refrain from checking your phone or using other electronic devices during your conversation. Give the other person your full attention. Focus on what the other person says, and reiterate key points during the conversation to show you are paying attention. The more interested you appear, the more likely that person will want to continue interacting with you.
Tailor your conversation to the setting
If you meet someone at a work event, for example, discuss topics that are related to your current job or career. The same applies to any other setting. Conversations in proper context help people feel comfortable with one another, and are a great way to establish a rapport with someone.
Be aware of your body language
Make eye contact and display open body posture during your interaction with the other person. Crossing your arms is seen as a defensive posture and will give the person you are interacting with the impression that you are not interested in talking to him or her, so avoid this gesture at all costs. Stand up straight with arms relaxed, and make consistent eye contact with the other person to make a good first impression.
Pay attention to the flow of dialogue
When interacting with someone new, try not to interrupt or talk over him or her. This is a simple courtesy that many people overlook. Listen carefully and remember that communication goes two ways. Wait for a cue from the other person that it is your turn to talk before speaking and keep in mind that the better your listening skills, the better impression you will make.
Obtain the communication skills to help you make a good impression by enrolling at Fremont University. Our graduates are articulate and professional, prepared for some of the most in-demand careers upon graduation. Fremont University offers degree programs in Multimedia Design, Business Leadership, Paralegal Studies, and Sports Therapy. Contact us today to request a free career guide and to learn more about how Fremont University can prepare you for a rewarding career.