Is a Paralegal Career Right for You? 5 Tips to Help You Decide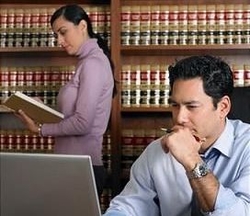 If you are considering a Paralegal career but aren't sure if it's the right choice for you, it's a good idea to find out common qualities that a Paralegal should possess before making a decision. Below are some of the tasks involved with being a Paralegal and common traits of successful Paralegals. If you have been asking yourself if a Paralegal career is right for you, continue reading to find out.
1. You must enjoy research
A large part of a Paralegal's job involves research. Not only must you enjoy research, you should be the type of person who is an expert at finding facts. Your research could involve scouring the Internet for days to locate information about a case, searching files at the county courthouse, or sifting through old newspaper articles. If you don't have an analytical, problem-solving mind and a love of research, a Paralegal career probably isn't the right choice for you.
2. You must have good people skills
Although Paralegals spend a good deal of time researching on their own, they also have vital contact with clients. Paralegals are usually responsible for taking statements from clients and must direct a client's questions and concerns to the attorney. Since the Paralegal acts as a liaison between the client and the lawyer, it is important that you enjoy helping people and have the ability to work with a diverse group of people if you want to work in the Paralegal field.
3. You must work well with limited supervision
If you are the type of employee who requires a lot of direction or you need a boss who reminds you that your work is due soon, you may want to reconsider a career as a Paralegal. The attorney you work for most likely won't have time to remind you about approaching deadlines. Also, keep in mind that just because your boss says you have two weeks to complete a case file doesn't mean he or she won't need it two days later.
4. You must be organized
Paralegals not only organize cases and files for their own personal use, they also organize files for use by attorneys and other case workers. Having your own system of filing won't suffice if you want to be a successful Paralegal. Your organization must be logical and easy for others to follow. Remember, the work you do and how you present it can make or break a client's case.
5. You must work well under pressure
As you gather research about a case, you may discover information that changes the entire course of your research. If you get frustrated easily, being a paralegal might not be the career choice for you. Being a Paralegal requires patience and adaptability when working under tight deadlines.
If you possess the qualities mentioned above and are interested in law, you may want to consider working in the Paralegal field. Combine these qualities with proper certification and training, and you will be on your way to an exciting and rewarding career as a Paralegal. Fremont University offers an ABA-approved Paralegal program where you will receive real-world legal experience and conduct actual legal research. In addition, you can earn an associate's degree in Paralegal Studies in just 15 months at Fremont University. Apply today to begin working toward a Paralegal job!
Paralegals may not provide legal services directly to the public, except as permitted by law.

Get a FREE Paralegal Career Guide »