Los Angeles Campus
*This Campus is currently closed but online classes are available.  For campus programs please visit our Cerritos location, which is located in Los Angeles County.  For Online programs please email or call us at 1 (800) 373-6668.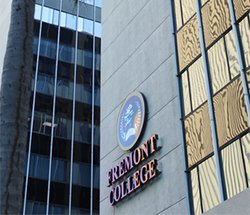 Fremont College Los Angeles
If you have been searching for colleges in LA, the Fremont College Los Angeles campus is conveniently located minutes away from downtown Los Angeles near public transportation and easy freeway access. Our West Coast facility features modern classrooms and equipment all in beautiful Southern California. Experiencing our local community might be described as a breath of fresh air. Fremont College offers an innovative learning experience, unlike any other school. With degree programs in Healthcare Management, Healthcare Information Technology, Sports and Rehabilitation Therapy, Massage Therapy, Paralegal Studies, Digital Marketing, and Business Leadership, we have degree programs to suit a wide range of interests and talents. We also offer convenient night classes at our Fremont Los Angeles College campus to accommodate busy schedules.
When searching for Los Angeles Colleges, we know there are a number of universities to choose from.  After speaking with our admissions department representatives we feel that Fremont College will be an obvious choice.  Some of the advantages of choosing Fremont include:
A fast-paced program
A set class schedule that doesn't change
Your graduation date set the day you sign up.
Not all programs are offered at the Los Angeles branch campus. Some programs are offered in partnership with the Cerritos main campus include educational options to become a sports therapy professional, massage therapy, or paralegal to name a few.
Our programs include:
Request a FREE Career Guide
Call today to set up an appointment to visit our Los Angeles college campus where you will receive information about our degree programs and learn about the enrollment process.  Our West Coast campus in Los Angeles, California offers a number of exciting opportunities for those looking to further their education and participate in events to gain real-world experience (for applicable programs).
Fremont College
3440 Wilshire Blvd., 10th Floor
Los Angeles, CA 90010
(213) 355-7777
Email: info@fremont.edu
Phone: 1-800-FRE-MONT (373-6668)
 *This Campus is currently closed.  For campus programs please visit our Cerritos location.  For Online programs please email or call us.