OCPA Corporate Law Workshop at Westwood College on 8/18
Missed this event? Fill out the form on this page to find out when the next one is.
[contact-form-7 id="35896″ title="Internal Blog Page Mobile Form"]
Join Fremont University at OCPA Corporate Law Workshop. The workshop will be held at Westwood College on 8/18. Anyone interested in attending should contact Fremont University ahead of time.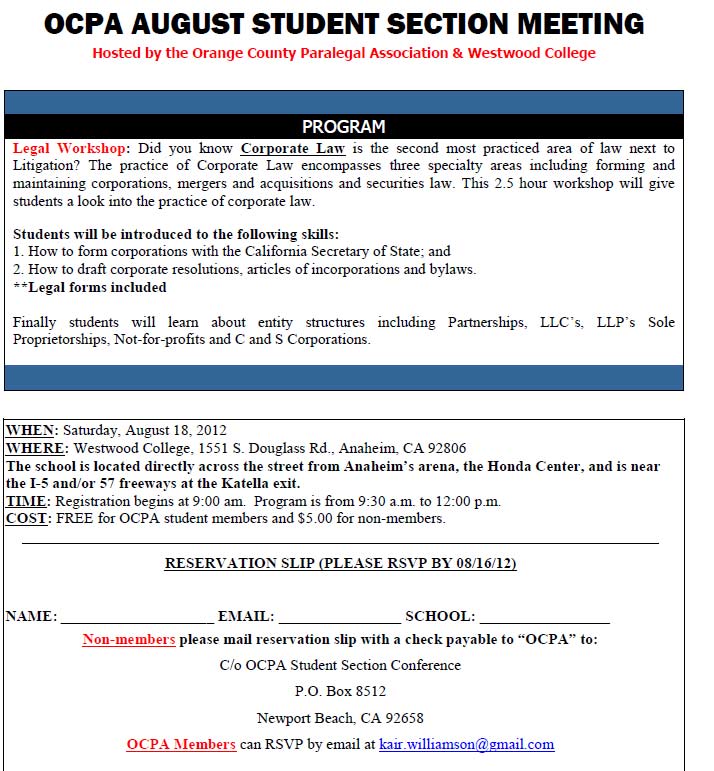 OCPA August Student Section Meeting – Hosted by the Orange County Paralegal Association & Westwood College
Legal Workshop: Did you know Corporate Law is the second most practiced area of law next to Litigation? The practice of Corporate Law encompasses three specialty areas including forming and maintaining corporations, mergers and acquisitions and securities law. This 2.5 hour workshop will give students a look into the practice of corporate law.
Students will be introduced to the following skills:
1. How to form corporations with the California Secretary of sates; and
2. How to draft corporate resolutions, articles of incorporation and bylaws.
**Legal forms included
Finally students will learn about entity structures including Partnerships, LLC's, LLP's Sole Proprietorship, Not-for-profits and C and S Corporations.
When: Saturday, Auguest 18, 2012
Where: Westwood College, 1551 S. Douglas Rd., Anaheim, CA 92806
The School is located directly across the street from Anaheim's arena, the Honda Center, and is near the I-5 and/or 57 freways at the Katella exit.
Time: Registration begins at 9:00 am. Program is from 9:30 a.m. to 12:00 p.m.
Cost: FREE for OCPA studnet members and $5.00 for non-members.
Please be sure to fill out the reservation slip ahead of time and RSVP by email. If you have question contact Fremont University.
Want to join events like this one while earning your paralegal degree in Los Angeles County? Contact us today by filling out our form to learn more.