Paralegal Careers: Top 6 Best Jobs for Paralegals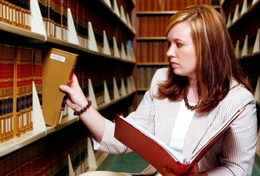 If you are interested in law, but don't want to spend several years in school, consider a Paralegal career. Skilled Paralegals who possess an ABA-approved Paralegal degree are in high demand because busy lawyers are in need of someone who can take on part of their ever-expanding workload. There are many different career options within the Paralegal field, including Law Clerk, Immigration Paralegal, Litigation Support Analyst, and others. Continue reading to discover the best jobs for Paralegals and decide which Paralegal career is right for you.
1. Law Clerk The Law Clerk acts as an assistant to an attorney or judge. They perform a wide range of duties related to the disposition of a case. Law Clerks research legal documents to provide supporting evidence for a case argument. They also prepare affidavits and other legal documents, draft motions or briefs, locate and interview expert witnesses, file motions and other documents with the court, oversee the delivery of subpoenas to witnesses, and communicate with judges, attorneys, witnesses and other individuals involved in a case.
2. Litigation Support Analyst The Litigation Support Analyst, also referred to as a Litigation Support Specialist, is typically an entry-level position. They are responsible for the day-to-day litigation support needs of assigned cases and projects. Litigation Support Analysts build, maintain, and troubleshoot databases for complex litigation in which the documents and data are too voluminous to sort manually.
3. Immigration Paralegal Immigration Paralegals perform general paralegal duties with a focus on immigration issues. Their duties might include interviewing clients for information needed to obtain a Visa. The Immigration Paralegal drafts court papers and gathers supporting documents to file a client's immigration application. They perform statutory, case law, and public records research to understand the legal requirements that apply to specific cases. These paralegals also perform highly specialized services such as deciding whether clients requesting asylum are eligible for refugee status, helping clients who seek temporary residence to show that they will not violate their visas, and assisting clients who want to become naturalized citizens.
4. Family Law Paralegal Family Law Paralegals usually work for private firms or government agencies that deal with domestic relationships. They assist families in matters involving prenuptial agreements, same-sex domestic partnership, divorce, child custody, adoption, establishing paternity, tax and finance laws, and sometimes even social services such as child welfare and domestic violence. They are responsible for obtaining legal documents including marriage certificates and birth certificates, uncovering individual assets, and working with a mediator to assist the involved parties in reaching divorce or custody agreements.
5. Corporate Law Paralegal The Corporate Law Paralegal usually works in the legal department of a corporation or in law offices for attorneys who assist business clients. They assist in all stages of corporate transactions. Corporate Law Paralegals are responsible for preparing documents required to form corporations, drafting legal documents, updating company files, performing legal research, and preparing summaries for the attorney. They handle the formation of corporations, limited liability companies, and partnerships. Corporate paralegals must have an understanding of various states' incorporation rules, corporate filing guidelines, and required documentation for corporate matters, including business formation, dissolution, mergers and acquisitions.
6. Litigation Paralegal Litigation Paralegals work with trial attorneys performing multiple tasks during the litigation process. They work on all phases of the trial from beginning to end and are typically responsible for maintaining litigation files, as well as reviewing and preparing material for storage or disposal once a case has ended. They are often called on to assist in research, depositions, and witness preparation. The Litigation Paralegal is typically the one who prepares and handles all exhibits and attend trials to serve as an assistant to the attorney during court proceedings.
Become a Paralegal in a little over one year by earning an ABA-approved Paralegal degree at Fremont University. In just 15 months, you will earn an associate's degree in Paralegal Studies and be equipped with the necessary skills to work as a Paralegal. Fremont University offers the Paralegal program in Los Angeles and Cerritos, and is one of only 28 ABA-approved Paralegal schools in California. Prepare for your future by enrolling in the Paralegal degree program at Fremont University. Space in the program is limited, so don't delay! Paralegals may not provide legal services directly to the public, except as permitted by law.

Get a FREE Paralegal Career Guide »