Paralegal Internships: Tips for Being the Best Candidate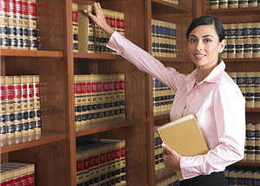 When screening potential employees, legal firms look for prior legal work experience in addition to an education in legal studies. The best way to gain real work experience and get your foot in the door is through internships. Internships provide the opportunity to gain valuable skills and experience working in a firm so you can be the best candidate for your future job.
The responsibilities and duties of legal interns differ depending on the firm and your team. However, all provide an opportunity to apply textbook concepts in the real world and solve daily office challenges, from coping with difficult bosses or coworkers to handling demanding clients. Quality internships will allow you to work on cases from beginning to end and not only do the research but also attend the court proceedings. Keep in mind some firms use interns for mundane work that will be valueless experience for a legal professional. It is important to discuss your main responsibilities and daily duties when you are negotiating a potential internship so you know what to expect. You want to make sure your main duty isn't making copies and getting coffee, the internship should provide you with real paralegal work experience. Remember, the goal of an internship is for you to learn while also being helpful for the firm, both should benefit from the arrangement.
To get the most out of an internship, you should research different firms and look for a good fit. Legal internships can range from legal departments at banks, to foreclosure defense, to prosecuting criminals. It is important that what you want to do lines up with what the firm does. Keep in mind finding an internship is a two-way street, you are also evaluating if the company is a good fit for you.
In addition to reaching the field and priorities of the firm, it is important to find a firm where you can follow a mentor. Unfortunately, most legal firms do not have a site supervisor to lead interns like other occupations. For this reason, it is important to find someone in the firm who is willing to take you under his or her wing and show you the ropes of working in the field of law.
Along with getting more work experience under your belt, there are other benefits to internships. Most significantly, some firms offer hardworking interns full-time employment after they have completed their internship. This is the ideal outcome but by no means guaranteed. However, if you are interested in a full-time position, it is recommended that you ask upfront if there is possibility for full time employment because  "Unless you ask the question, you may not get that answer." In addition to potential job offers, internships are also a great opportunity for you to network with legal professionals. It is important to make contacts with different attorneys and paralegals because they may be able to help you find a job in the future.
Having a legal internship can set you apart from the crowd when recruiting for a job. In this tough economy, with stiff competition for limited jobs, every competitive edge is crucial.
Learn more about our paralegal studies program at Fremont University and start your journey to becoming a paralegal today.
Paralegals may not provide legal services directly to the public, except as permitted by law.

Get a FREE Paralegal Career Guide »