Massage Therapy

Want to learn how to become a massage therapist? Click here to learn more about this profession and how you could get started.
How much money does a massage therapist make an hour?
A Massage Therapist earns an average wage of $19.17 per hour with a median pay of about 39,860 per year, according to the Bureau of Labor Statistics Occupational Outlook Handbook.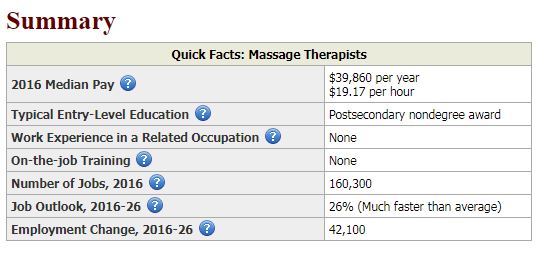 Is Massage Therapy?
Massage therapy is manual manipulation of soft body tissues (muscle, connective tissue, tendons and ligaments) to enhance a person's health and well-being. There are dozens of types of massage therapy methods (also called modalities).
Is massage therapy helpful?
According to the Mayo Clinic, Studies of the benefits of massage demonstrate that it is an effective treatment for reducing stress, pain and muscle tension. While more research is needed to confirm the benefits of massage, some studies have found massage may also be helpful for:
Anxiety
Digestive disorders
Fibromyalgia
Headaches
Insomnia related to stress
Myofascial pain syndrome
Soft tissue strains or injuries
Sports injuries
Temporomandibular joint pain
Can you give a massage without a license?
Depending on the law for your area, State licensure may require that only a person who holds a valid license from the state can engage in the practice of massage therapy or advertise to the public that they are practicing massage therapy. It might apply criminal penalties for people who practice without a valid massage therapy license.
Get more information about the massage therapist (MT) program. Learn how you can start a new career by clicking here and filling out the form. You'll get all the information you need to begin your education and start a new career path.