Sports and Rehabilitation Students Give Over 600 Sports Massages at the Beach Babe Bicycle Classic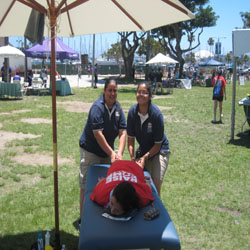 Over 600 women bicycle riders were given sports massages by Fremont University Sports and Rehabilitation Therapy students and graduates at the 2nd Annual Beach Babe Bicycle Classic on July 15, 2012. The sports massage school does a number of events like this one throughout the year, which gives students and graduates hands on experience as well as helps our community.  The event took place at the Marina Green Park in Long Beach, CA.
The Beach Babe Classic is part of a statewide effort to help women reduce illnesses associated with sedentary-living such as heart disease, cancer, and diabetes via bicycle riding.
Students who participated in the event were: Cathrina Alapag, Domingo Padilla, Patty Ralls, Rafael Klee, Robert Oceguera, Sheila Maingi, TJ Onias, Wendolyn Torres, and Yuki Horne. Graduates who were also there to lend a hand were: Brian Gibbs, Elmer Chavez, and Janely Rodriguez. Thanks to everyone who participated in this event!