Sports Therapists: Helping Athletes Perform at Their Best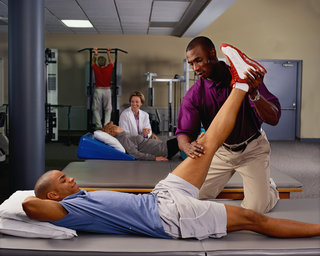 If you are passionate about sports and enjoy helping people, sports therapy might be the career for you. Sports Therapists work with professional and amateur athletes to prevent and treat injuries, and to help athletes reach peak performance. If you're considering becoming a Sports Therapist, you probably already know that sports therapy is a highly rewarding and challenging career. Continue reading to learn more about the vital role Sports Therapists play in athletic performance.
The role of a Sports Therapist
A Sports Therapist is someone who does physical therapy work for sports teams or individuals who participate in sporting activities. People in this role may have a job working directly for a sports team, or they may have their own clients. Their jobs are usually related to prevention of an injury and physical therapy after an injury occurs. Sports Therapists are also responsible for determining when athletes are ready to return to competition during the recovery process, as well as helping those athletes avoid aggravating an existing injury.
Common traits of a Sports Therapist
Good interpersonal skills
Physical fitness
Encouraging and motivating
Ability to form good relationships with people from diverse backgrounds
Good listening skills and empathy when dealing with injured clients
Qualifications and training required
Most professional careers in the sports therapy field require a college degree. Healthcare professionals specializing in sports therapy rely heavily on the scientific knowledge and applied practice obtained in a degree program. The best sports therapy programs combine medical and science courses with quality hands-on training. A good sports therapy training program will give you the skills to develop injury preventing plans and other healthcare regimens for sports teams, as well as provide sports massage treatments after practices and events.
Sports Therapists help athletes prevent injury
To help athletes avoid injury, a Sports Therapist may watch for problems in physical mechanics when performing in their given sport. Athletes tend to push their bodies to extremes, resulting in major consequences over time. Monitoring mechanics can be very important in some sports, because some sports pose a great risk of repetitive stress injury, such as pitching in baseball. A Sports Therapist may also recommend the use of braces or athletic tape to protect muscle groups.
Sports Therapist help athletes recover from an injury
When athletes suffer an injury, it is the Sports Therapist's responsibility to help them on the road to recovery. The Sports Therapist might recommend rest time and coordinate with physicians to determine the best treatment plans. It is also the duty of a Sports Therapist to create a physical rehabilitation program for the athlete, which may include specific exercises to strengthen damaged muscles or tendons and promote healing.
Typical responsibilities of a Sports Therapist include:
preparing athletes both mentally and physically
advising about stretching and warm-up exercises
collaborating with trainers and coaches regarding injury prevention programs
giving first aid if needed
examining and assessing injuries
providing appropriate treatment
giving massages and administering athletic tape
checking injuries and athletic taping
making decisions about whether athletes and players are able to compete
administering treatment for minor injuries such as bruises, strains and blisters
referring individuals to appropriate sports and medical practitioners for further treatment
accompanying injured athletes and players to appointments
designing and implementing detox and rehabilitation programs
advising about nutrition, diet, and lifestyle
Employment
Many Sports Therapists are self-employed. Those who are not often work in sports injury clinics with professional and amateur sports teams and clubs or health and fitness clubs. If a career as a Sports Therapist appeals to you, consider earning a degree in Sports and Rehabilitation Therapy at Fremont University. Earn an associate of science degree in Sports and Rehabilitation Therapy in just 15 months and be on your way to an exciting and rewarding
Sports Therapist career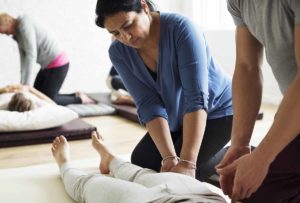 The Sports and Rehabilitation Therapy program at Fremont University provides the hands-on training necessary to prepare for a career in sports therapy. Don't wait – enroll in our sports therapy training program in Los Angeles today!