Sports Therapy Career Facts Infographic
A Career for Sports Lovers
Are you the kind of person who enjoys going to sporting events? Do you find yourself investing in the players? Do you have a knack for science? If your answer to these questions is yes, Sports Therapy is the career for you! Sports therapy is a branch of physical therapy that works specifically with athletes and sports teams. In this career, the sports therapist interacts with athletes to prevent injury, provide first-aid, and promote long-term muscular development for patients.
As a sports therapist, there are a handful of qualities that are necessary to be successful. First, you must have a broad scope of knowledge about medical care and the human body. This is required in order to properly treat patients, whether they are in need of immediate medical attention or long-term treatment plans. Next, it is vital that you have interpersonal skills in order to properly communicate with patients to put them at easy about potential treatments. Thirdly, a sports therapist must be detail-oriented due to the data-collecting nature of the job. As a medical professional, it is your job to accurately record information about your patients in order to track their progress and accomplish the goals at hand. Lastly, you need to be quick on your feet and have excellent decision-making skills. Since part of a sports therapist's job is to provide first aid to athletes, rapid decisions are a normal expectation, as the role you play requires both speed and precision to treat patients effectively.
Career Options in Sports Therapy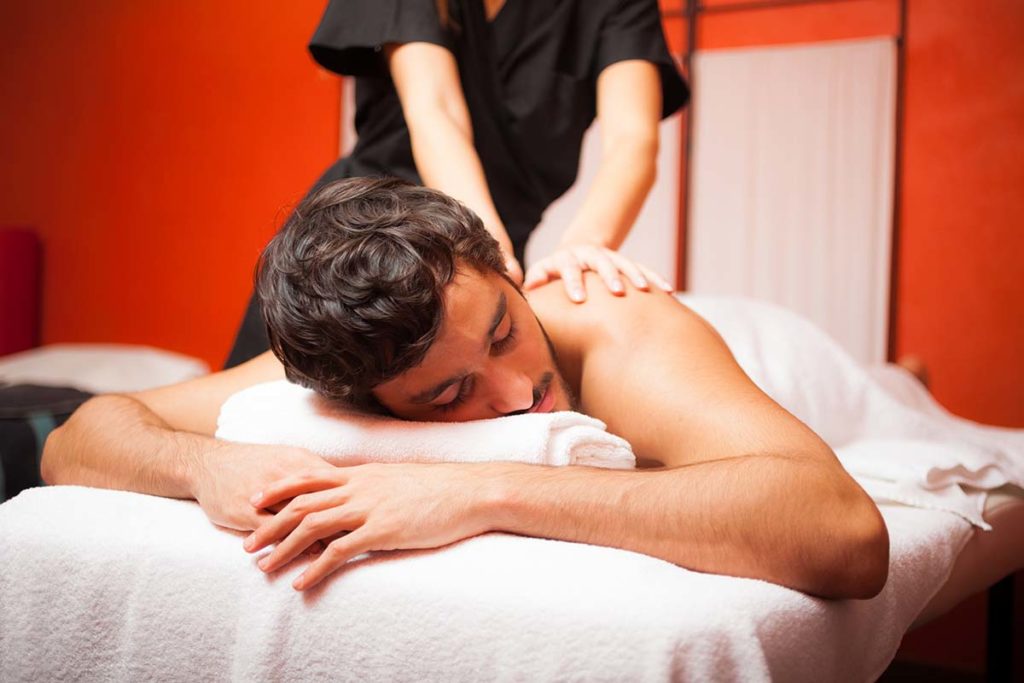 One of the positive aspects of a career in Sports Therapy is the variety of routes you can go within the field itself. Once you obtain an Associate's degree in Sports Therapy, you can then move forward to begin hands-on training with techniques pertaining to sports messages and other practical applications for your extensive knowledge in anatomy and physiology. With this experience under your belt, there are four main branches of Sports Therapy to choose from:
Fitness Trainer – As a Fitness Trainer, you will work with individuals and groups in order to motivate and instruct others in assorted exercise activities. The average yearly salary for a fitness trainer is $31,720, and there is an expected growth of 13% concerning demand for Fitness Trainers between now and 2020.
Team Sports Therapist – As a Team Sports Therapist, your specialty will work directly with athletic teams to rehabilitate injured athletes and implement programs within which the teams can improve collectively. The average yearly salary for a Team Sports Therapist is $32,982.
Medical Massage Therapist – As previously mentioned, sports massages are a necessary part of the hands-on experience of a Sports Therapist, and this career path focuses specifically on this type of treatment. The average yearly salary for a Medical Massage Therapist is $35,970, and there is an expected growth of 13% concerning demand for Medical Massage Therapists between now and 2020.
Physical Therapist Aide – As a Physical Therapist Aide, you will assist the general Physical Therapist as (s)he works with the patients to help them regain a full range of mobility and recover from injuries. The average yearly salary for a Physical Therapist Aide is $39,430, and there is an expected growth of 40% concerning demand for Physical Therapist Aides between now and 2020.
Sports Massage Therapy  Information
If you would like a Massage Therapy career, the first step is enrolling in therapy program. Here at Fremont University, we offer the opportunity to earn this degree in only 15 months! For a more in-depth explanation of Sports Therapy and how to start on your path to this career, click the "Download Information Kit" button on the right-hand side of the screen.
Sports Therapy Career Basics
If you like sports and enjoy helping people, a Sports Therapy career could be right for you. Sports Therapists recognize and evaluate athlete injuries, perform rehabilitative work, and plan comprehensive programs to prevent injury and illness. It's a growing field that can lead to tremendous opportunity and earning potential. Check out the Sports Therapy infographic below to learn more about this profession, including Sports Therapist salary and job duties.


How to Become a Sports Therapist
In order to become a Sports Therapist, you'll need a minimum of an associate's degree in Sports Therapy or related area of study. Fremont University offers an Associate of Science degree in Sports and Rehabilitation Therapy that can be completed in just 15 months. The Sports and Rehabilitation Therapy degree program at Fremont will equip you with the sports massage skills and knowledge of anatomy and physiology required to be successful in this profession. Contact us today to learn more about the Sports and Rehabilitation Therapy programmer click on the button below to request a free sports therapy career guide.