The Impact of ObamaCare on Healthcare Jobs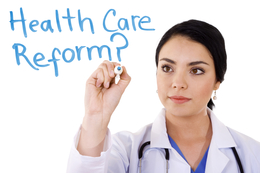 By now, you have probably heard about the impact the Affordable Care Act, also referred to as ObamaCare, is expected to have on businesses. Many changes are expected to take place once the ObamaCare bill is implemented, and one of those changes involves an increase in healthcare jobs. If you are considering the healthcare field, continue reading to learn more about the impact of ObamaCare on Healthcare jobs.
Healthcare Reform Act Basics
The Affordable Care Act bill was signed in March of 2010. The bill has been greatly debated since its introduction and is designed to reform healthcare in the following ways: increased access to healthcare, decreased cost, improved quality, and added consumer protection. It is still unclear how the Healthcare Reform Act will unfold, but what is certain is that millions of previously uninsured Americans will soon have access to healthcare, causing an increase in the number of potential patients requesting treatment from healthcare facilities. Experts believe this added demand will result in a huge increase in job openings within the healthcare industry – as well as an increase in the scope and location of available healthcare jobs.
Growing Demand for Healthcare Professionals
When people have health insurance, they demand more health care. The way The Affordable Care Act will create jobs is by increasing the number of patients, in turn causing an increase in the need for healthcare workers. Not only will doctors and nurses be in high demand once ObamaCare takes effect, other healthcare professionals will also be needed. The demand for Medical Records Technicians, Health Information Technicians, Medical Secretaries, Medical Coders, Medical Office Managers, Patient Care Managers, Health Services Managers, and other healthcare professionals is expected to increase significantly.
Increased Preventative and Ambulatory Care
The Patient Protection and Affordable Care Act (PPACA) also calls for more care to be provided outside of hospitals with specific provisions focusing on increasing the quality of preventative care. This will likely result in a major rise in demand for ambulatory, or outpatient care. At the same time, hospitals will shift to a greater focus on critical-care patients, she says.
What this Means for You…
The potential for study growth in the healthcare field means numerous promising career options. Career openings in the healthcare field will extend to a variety of levels of education and work experience. Fortunately, for those who are eager to pursue a rewarding career in healthcare, you can get a start in the industry in as few as 15 months as a Health Information Technician or take a Healthcare Manager.
Before you start your job search, it will be helpful to determine the setting you want to work in. For example, hospitals will be staffing more critical care nurses while registered nurses and other patient care positions may have more opportunities at outpatient sites, such as clinics or other non-critical medical facilities.
Obamacare will be fully implemented early next year. Start preparing for a healthcare career by earning a degree in Healthcare Management or Healthcare Information Technology now. Both programs take just 15 months to complete. The Healthcare Management program is part of our Degree Completion Program that allows students to apply previously-earned college credits toward a bachelor's degree that takes just 15 months to complete.
The Healthcare Information Technology program is an associate's degree program that also takes 15 months to complete. Both degree programs prepare students for in-demand careers in the healthcare field. Request a free Healthcare Career Guide to learn more about how Fremont University can prepare you for a job in the healthcare field.