Tips for Landing an Accounting Internship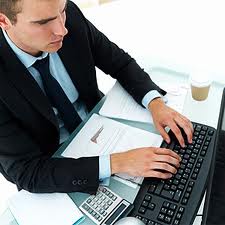 We've shared some tips on writing paralegal resumes, how to be a professional and considerate massage therapist, and how to snag your first job. Well now it's time to give our accounting majors some tips on getting the right internship, and possibly even a paid one.
1. Get help
Enlist the help of friends, family, teachers, co-workers, anyone who might have some contacts with people in the accounting industry. Every contact counts. You never know who will be able to get you the right internship that can lead you to a future job.
2. Attend job and internship fairs
It's the perfect opportunity to network and sell yourself as a great asset to their firm!
3. Do your research
Make a list of all the accounting firms you're interesting in working for or interning at. Research the accountants that work there and see if you have anything in common with them. Maybe you're both from the same hometown or went to the same high school. That common ground will break the ice and make the person in a position to hire you, or offer you an internship, more inclined to do so. Also, make sure you know as much about the company as possible. Find a firm that does the kind of accounting you're interested in so you gain the right kind of experience. Plus, it will show you're prepared and ready to start.
4. Prepare a cover letter and resume
Use the cover letter as an opportunity to introduce yourself, declare your interest in an internship, and highlight your best qualities, qualifications, and special skills. Be honest, straightforward, and keep it simple. On your resume, only include prior experience that's relevant to this internship. As a student it's acceptable to share specific classes or projects you've worked on that have enhanced your knowledge and expertise in accounting. Remember, these firms will probably be getting many resumes from students much like you that have taken the same coursework as you. Try to set yourself apart as much as possible.
5. Dress professionally and visit firms in person
It's best if you can call ahead and arrange a meeting with someone, but if not, go visit the firm. Handing your resume and contact information to someone in person is much more memorable to an employer than an impersonal e-mail. By putting a face with the name, you'll be much harder to turn down.
6. Offer to help with special projects
If you know they have certain projects or contracts they're working on, offer your assistance. The accountants may be overwhelmed and welcome the help. Maybe even so much so that they'll pay you a small wage. It never hurts to offer!
7. Don't limit yourself
Accounting is the backbone of business. EVERYTHING relies on it. So don't limit yourself to looking at actual accounting firms. If you're interested in wildlife, see if you can find an internship with the Parks & Recreation or Wildlife Services' accounting branch. If fashion is your thing, check out internships with department stores' accounting services.
With all the accounting programs in Los Angeles, you'll be sure to get the best foundation for your career here at Fremont University. We're here for you every step of the way!
Related Reading:  The history of accounting – read it by clicking here.