Top 10 Job Fair Tips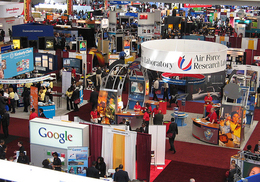 Job fairs are a great place to network and get noticed by top companies. They provide an opportunity to learn more about jobs in your field and explore new fields that are of interest. There are steps you can take to ensure that you get the most out of a career fair, including researching the companies beforehand and being prepared for on-the-spot interviews. Continue reading to find out how make your next job fair a success with these top 10 job fair tips.
1. Check the job fair website
Search for jobs on the job fair website in advance, if possible. This will allow you to target your preferred employers during the event. Even if the job fair website doesn't offer the ability to search job openings by company, most list the participating companies so you can research them on your own. Obtain information about the companies you are interested in by visiting their website. Research each company so you are prepared to answer questions such as "Why do you want to work for us?". The more you know about each company, the better prepared you will be to converse with the company representative.
2. Wear proper business attire
First impressions are important. When attending a job fair, dress the same way you would for a job interview. Wearing professional attire will make you feel more confident and will leave a good impression if you are asked to do an on-the-sport interview.
3. Arrive early
Arrive early to register and familiarize yourself with the location. Pick up a map of the event, if available, and route which booths you would like to visit. If time allows, walk past the booths that interest you most so you have an idea of what to expect. If you plan to attend seminars or networking events during the job fair, look at the schedule so you can be prepared.
4. Prioritize the employers you are most interested in
Visit your preferred employers first and leave a copy of your resume. Spend some quality time with each, but keep in mind that other job seekers are waiting so don't take up all of the recruiters time or be offended if they cut it short. Once you have visited all of your target companies, visit other employers' booths and do some networking – you never know where how you will find your next job. If the job fair also hosts casual social events, have enjoy yourself while networking, but remember to behave professionally as your potential new boss could be watching.
5. Take plenty of resumes
Take a minimum of 20 resumes (or more if it's a large event) to hand out to prospective employers. The job fair may have copy facilities that you can use for a small fee which is helpful if you run out, but don't count on it. Also, bring a pen and notepad to take notes, and organize everything in a briefcase or portfolio.
6. Prepare to fill out job applications on the spot
Some companies want potential candidates to fill out an application on the spot. Unless you are otherwise directed, it's best to turn it in right away. Taking the application home to fill out gives better-prepared candidates a head start in the process.
7. Be ready for on-the-spot interviews
Some interested companies may want to perform a brief interview you on the spot, so be prepared to quickly sell your skills, talents, and experience. Job fairs tend to be more casual than formal interviews, so you can relax and be less formal in your approach. It's better to politely sidestep up-front salary discussions if you can. But have a salary figure in mind, just in case your interview advances to the salary stage. Dress in business attire, act professional, and show enthusiasm.
8. Keep track of which companies you submitted your resume to
Track which employers you've submitted your resume to so you don't inadvertently resubmit it too soon. It's a good idea to jot down other notes too, immediately after you talk to each representative. This will help you later on if you happen to land a follow-up interview with the same person. (You can bet that interested reps will take notes on you.) Taking notes will also help you when you write a follow up "thank you" email.
9. Find out what the next step is
When wrapping up your conversations with each company representative, show your interest by asking them what the next steps are. Ask if it's okay to call them or send follow-up letters a few days after the job fair ends. If the company says they will contact you, refrain from emailing or calling, and wait for them to reach out to you first.
10. Collect business cards or contact information
You'll need contact information for each company when you follow up after the job fair. Follow up with each representative you spoke to within 48 hours with a "thank you" email that reiterates your interest in the company. Doing so will set you apart from other candidates and may help you land a follow up interview.
Prepare for a rewarding career by enrolling in a degree program at Fremont University. Fremont University offers accelerated degree programs that take just 15 months to complete. You can choose from five in-demand degree programs, including Multimedia Design programs, Business Leadership, Paralegal Studies, and Sports Therapy. Space is limited, so apply today to ensure enrollment in the next term.