Top 10 Tips for Balancing School and Work
Tips for Balancing School and Work
A study from Georgetown University found that nearly 14 million Americans are working while taking classes. This group makes up about 70 to 80 percent of college students, and nearly 10 percent of the overall labor force. Surprisingly, this is not a new phenomenon. The number of students who also work has been on the rise since the 1970's. The study also revealed that about one-quarter of students who work while attending school have both a full course-load and a full-time job. This type of arrangement can offer some benefits, such as tuition and living costs. However, there are also some drawbacks, including finding a good work-school-life balance.
Is School Possible for Students Who Work Full-Time?
Adults have many obligations, from a job to paying bills and, in many cases, even a family with a spouse and children. While you have to work, you also need to go to school to achieve your long term career goals and earn your diploma. It may seem impossible to balance all of these responsibilities, but it can be done. You just need a little ingenuity, a lot of planning, and the helpful support of your loved ones.
One of the best ways to achieve this work-school-family balance is to create a flexible schedule. While some parts of your schedule are going to be inflexible, like class times and work days, you have more flexibility when it comes to fitting in homework and studying when you're not in class or at the office. Work on building a routine that you can stick to, but that you also have the flexibility to adjust later if something important come up. While you can be more flexible with these tasks, just make sure Make you devote enough time for studying in your schedule so that if something comes up, you can shift it into another slot during the week. A great way to keep track of your busy schedule is to use a planner. This is especially true if your days are so varied that you have trouble keeping track of your schedule.
In addition to planning your flexible schedule, you need to plan your academic path. Start by meeting with an advisor and determining what goals you need to set. An advisor will help you map out your entire program, so you know what to expect and when to expect it. This will also ensure you stay on track and do not waste time and money taking classes you do not need for your degree.
While it is important to focus your time on school when working on a degree, you should remember to still make time for your family. As you fill out your schedule, include time for your family and family obligations. You can even create a separate column for things you need to do to keep your house in order, make your spouse happy, and ensure your are children well. In addition, be sure to schedule a weekly social activity to maintain your friendships outside of the family. You also need to make time for yourself. With all of your familial, work, and school responsibilities, you may have a hard time finding time to get everything done, let alone give yourself some down time. However, to avoid burnout and becoming overly stressed, it is important that you schedule some "me time" every week, even if it is just an hour where you sit in a coffee shop and read a book or magazine for fun.
Ten Tips for Balancing School and Work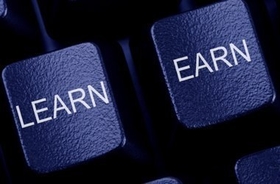 If you're like most college students, you probably need to work while attending school. Balancing school and work isn't always easy, so you might be wondering how to fit everything into your busy schedule. Below are 10 tips for balancing school and work that will help you use your time wisely and become a more efficient student.
1. Look for alternatives to working in college If at all possible, try to get through college without taking on a job. Schoolwork and studying will take up a considerable portion of your time anyway, especially if you are attending school full-time and want to graduate on time. If you don't have access to financial support from family, consider taking out a small loan equivalent to the amount of money you would have made if you had a part-time job. If possible, work during the summer to pay off the loan. When it comes to supporting yourself during college, think outside the box.
2. Try to find a job on campus If you determine that you must work while attending college, finding a job on campus is ideal. Find out if there are open positions in the computer lab or library. If it is not possible to find a job on campus, try to find a job at a company near your campus. Companies near the college have probably employed students in the past and therefore are more likely to employ a current student. These companies also tend to be more accommodating and flexible with the hectic schedule of a college student.
3. Look for jobs in your desired career field Making money at a job is one thing, but gaining valuable work experience that will look great on your resume and help you find employment after graduation is even better. Search for entry-level jobs in your desired field that will help you gain experience. Entry-level jobs can also lead to full-time work and promotions within the company once you have obtained experience and earned a degree.
4. Find an employer that is student-friendly If finding a job on or near campus isn't possible, try to find an employer that is student-friendly. Before you apply for a job, talk to the manager or owner of the company and explain your situation. Many employers are willing to work with students and will accommodate your schedule.
5. Communicate with your employer Let your employer know in advance when exams are approaching and request flexibility in scheduling to allow time for studying. If your employer is not able to accommodate your schedule, you may want to consider finding a more student-friendly job. Your college education should be your priority because doing well in college will benefit you in the long run.
6. Prioritize and schedule Sticking to a schedule can ensure you have time for everything, whether it's studying or social activities. Sit down with a calendar at the beginning of each week and map out your obligations, including classes and work schedule. The rest of your spare time can be spent studying or engaging in social activities. Blocking out time for each activity at the beginning of the week helps you remain balanced and focused.
7. Be realistic about your expectations If you are attending school full-time, don't attempt to also work full-time if you don't have to. Aim for 15 hours or fewer per week. Reduce your hours at your current job, or take on a part-time job. Your top priority should be school, so keep this in mind when considering employment.
8. Create a routine Set aside a little time every day to study or work on class assignments. It is important to be consistent, so even on days when you are exhausted because you attended class and worked all day, make an effort to at least study for 15 minutes before going to bed. Once you get into a routine, you will find that studying and completing class assignments comes easily. In addition, you will also be less likely to fall behind if you stick to a routine.
9. Make the most of your free time Look for ways to increase productivity during your free time. If you have a job that has a lot of downtime, such as a cashier job or a job in the school library, try completing class assignments or studying during that time. Take advantage of any downtime you have to work on assignments or study. If you have a night job that allows you to read a schoolbook or note cards when you're not assisting customers or working on a task, take advantage of that free time.
10. Make time for yourself You'll do better in college if you occasionally make time for yourself where you can relax and do things you enjoy. Setting aside some time for yourself will also prevent you from experiencing burn out. During the time you set aside for yourself, you can hang out with friends, pursue your hobbies, or use it for extracurricular activities at school.
Fremont University offers accelerated degree programs in Multimedia Design, Business Leadership, Paralegal Studies, Sports Therapy, and Healthcare Management. Our degree programs prepare students for in-demand jobs by providing hands-on training and instruction from experts in the industry. Upon program completion, graduates are prepared to begin working in their fields right away. Contact us today to learn more about our degree programs and how they can prepare you for a rewarding career.