11 Tips for a Successful Web Design Career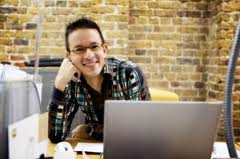 Being successful in the field of web design requires more than just having the right equipment or an in-depth understanding of design. There are some important tips that all aspiring web designers should keep in mind when building their professional repertoire. Below are 11 tips for a successful web design career that every web designer should know.
1. Plan before you design It's important to plan and research before beginning any web design project. Planning a project should include the following tactics:
Research the client's company
Ask the client what he or she expects from their website
Find out what your client's competitors are doing
In addition, making a sketch of the website on paper beforehand can help you save time, money, and resources by preventing common problems that web designers encounter during the design process. Although pre-design planning can be time-consuming and is often less interesting than the actual design process, it is necessary for a successful outcome.
2. Don't neglect basic web design skills A good web designer knows how to apply a wide variety of relevant techniques. Aside from core design skills, it's important to have a grasp on web design techniques such as the latest HTML coding, CSS for cross-browser compatibility, basic search engine optimization practices, and JavaScript while still creating a website that will allow new pages and content to be added as time goes by.
3. Get experience Web design experience is almost as important as qualifications or skills. Whether it's an employer or a potential client, people want to know how much experience you have, which companies you have worked with and what projects you have worked on. Start working on web design projects before you finish school or training to get practice and build your portfolio.
4. Stay current with new technology trends The world of computer technology changes nearly every day, therefore a successful web designer needs to keep in tune with changes in the industry. Take time each work week or work day to learn new things in your industry. Find out what's new, what's trending, and what no longer works when it comes to web design. If you want to ensure that your competitors don't take business from you by staying more current, then make a constant effort to learn the latest technology trends in your industry.
5. Pay attention to feedback Being able to accept and implement feedback effectively is an important trait of web designers or any other creative professional. Being able to point out mistakes in your own work is a good quality for web designers to possess. A successful web designer also has the ability to judge the success of their websites from the user's perspective.
6. Keep your portfolio up-to-date Maintaining an up-to-date portfolio is important for any designer. A portfolio is the best method for web designers to showcase their abilities, and an updated portfolio shows clients that you are current and active in the design world. Make sure that you keep only your most current work in your web design portfolio as potential clients usually aren't interested in seeing your web design projects from the 1990's. Your portfolio should contain examples of every aspect of web design, including layouts, colors, techniques, design rationales, content management, composition, and typography. Showing potential clients the full scope of your work will not only help you get more clients but will also justify charging more money.
7. Sell yourself Web design has become a competitive field which is why it is important for web designers to learn how to market themselves. In order to stand out from the crowd, it is important to let people know about your skills and accomplishments. Word of mouth works best, as does social media marketing, or even handing out business cards anytime you recognize an opportunity for networking. Unless you are a well-known web designer or work for an established web design company, waiting for clients to come to you will prove unsuccessful.
8. Be organized Regardless of which profession you choose, being organized is an important part of becoming successful. When it comes to web design – being organized is especially important. Keep your computer files organized by classifying text, graphics, pictures, videos, and sound files. Also, make sure that you create a file for each client to ensure that work does not get lost.
9. Learn effective communication skills Effective communication skills are important in any profession, but it is important for a web designer to have good communication skills because communicating with a client can determine the success of an entire project. Even if you're not particularly outspoken in nature, when it comes to presenting yourself and marketing your abilities, you need to be able to communicate confidently and clearly. You must also be able to speak about your design choices and why a particular design is right for your client's business.
10. Develop good teamwork skills Teamwork is inevitable whether you work in a well-known design studio or with a small client. Learning how to effectively collaborate with others will help you produce better work. As a web designer, it's important to understand just how often your ability to collaborate with others will come into play over the course of a project. Being a team player means understanding your role in the larger scheme of things, and being helpful to others. Learn to effectively work with others, and watch your work improve.
11. Adopt a good business sense It's best for web designers to adopt a business mentality when approaching any project. A successful web designer not only designs websites, they also create business solutions. If you are good at understanding a company's marketing needs and can get into the minds of potential website visitor's, you will have an edge over competitors.
If you have trouble managing the business side of web design, you may want to consider working for an agency that will take on a large portion of the business side of web design for you. Web design can be a challenging and competitive field, but success is attainable by following the above tips for web designers. Get the training you need to become a successful web designer by enrolling in Fremont Multimedia Design College. Earn a degree in Multimedia Design with an emphasis in web design
in just 15 months! Be on your way to a successful web design career with a degree from Fremont College of Multimedia Design.