7 Reasons to Become a Paralegal
If you're trying to figure out if a career as a paralegal is right for you, or you want to learn how to become a paralegal, this detailed guide will help you get started. Be sure to read the full article to get a better understanding of the profession. If you would rather speak with an admissions representative, who can answer all of your questions, please fill out the form on the right hand side of this page, or call the number listed at the top of our website.
Paralegal Overview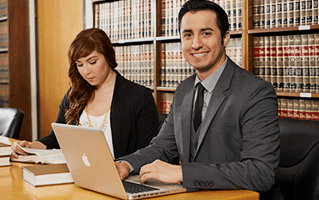 A paralegal is a person, qualified through education, training or work experience to perform substantive legal work that requires knowledge of legal concepts and is customarily, but not exclusively, performed by a lawyer. This person may be retained or employed by a lawyer, law office, governmental agency or other entity or may be authorized by administrative, statutory or court authority to perform this work. Substantive shall mean work requiring recognition, evaluation, organization, analysis, and communication of relevant facts and legal concepts (Source: paralegals. org/i4a/pages/ index.cfm).
The profession of paralegals vary wildly by states, as some states require a paralegal to be licenses. Often mistaken for a lawyer, a paralegal is not able to give legal advice, appear in court/ council, set fees, or sign court documents as it will be in violation of the unauthorized practice of law statutes in most of the States in the U.S. In the United States, lawyers originally utilized paralegals as their assistant during a time when lawyers only offered legal services.
Paralegal specific job requirements can vary depending on which area of law they are working in and how large the firm you are working for is. In a smaller firm, a paralegal may tend to a case from the beginning to end; in a larger firm, the paralegals' duties may be to work on a particular phase of a case. Paralegals and legal assistants may work together in small or large firms with attorneys and other legal support staff.
What Type of Education Do You Need to Become a Paralegal?
While there are formal paralegal education programs that result in degrees exceeding a master's degree, some paralegals have not taken online programs and instead have only on-the-job training to support their knowledge. Only a small number of accredited colleges and universities offer degree seeking programs in paralegal studies. For those who want to to apply for paralegal positions as a certified paralegal it could be well worth your time to enroll in a paralegal school. Previous work experience in an office (or preferably a law firm) will aid a potential candidate searching for employment opportunities.
Employers are looking specific qualities in a paralegal including communication skills, computer, interpersonal, organizational and research skills many qualities. Some employers may hire paralegals with limited experience and provide on the job training if this person has all of the qualities previously mentioned.
There are many continuing education courses (Continuing Legal Education) to assist in fulfilling various requirements assigned by their firm or association.In the United States, there are two large associations that offer these types of courses and certifications to paralegals: National Association of Legal Assistants and the National Federation of Paralegal Associations. A paralegal cannot be licensed through the government; however, they can be registered or certified. Both of the mentioned associations can offer professional certification exams but it should not be confused with the paralegal certificate that is earned through an accredited college or University.
Seven Reasons to Become a Paralegal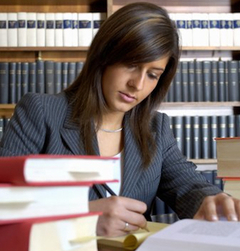 There are many reasons why a Paralegal career is an excellent choice. A Paralegal job provides an opportunity to work in the legal field without spending several years in law school. There are a number of different law specializations you can choose from once you graduate. In addition, Paralegal jobs continue to grow at a steady rate while other fields are experiencing a decline. After learning the many benefits of a paralegal career a number of students usually ask immediately after how can I become a paralegal (we'll get to this later). It's a big step in anyone's professional development and we hope this article will help you figure out if a job in the legal field is right for you.
Listed below are seven reasons to become a Paralegal. Continue reading to find out if a Paralegal career is right for you and get answers to your next question, "How can I become a paralegal."
Reason #1: Paralegals are in demand.
Paralegal jobs are expected to grow 18% by 2020, according to the Bureau of Labor Statistics, suggesting a consistent need for Paralegal professionals over the next several years. One reason why Paralegals are in demand is because they take on part of the workload of their supervising attorney so that he or she can more efficiently and profitably provide legal services. Those who specialize in areas such as bankruptcy, medical malpractice, community legal services, product liability, and real estate are expected to be in higher demand.
Reason #2: You can find out if a career in law is right for you without spending years in law school.
Working as a paralegal can provide unique insight into the legal system and help those considering law school decide if it is right for them. In addition, those who do decide to go to law school will already possess the research and writing skills required for a career in law making them better prepared for such a career.
Reason #3: You can specialize in any area of law.
Although you're not required to choose a specialty when you become a paralegal, you can choose to focus on a particular area of law that interests you. Choosing a specialty will make you a valuable asset to law firms that also specialize in that area. Paralegals work in all areas of law, so no matter what you're interest you can find a specialty that suits you in the Paralegal profession.
Reason #4: You can choose your working environment.
Paralegals work in environments of all sizes. The type of environment also varies significantly and can include law firms, government agencies, corporate legal departments, insurance agencies, financial institutions, and others. Some paralegals also work from home as consultants. There are numerous possibilities for paralegals who want to expand their careers to other fields.
Reason #5: Your job will be fast-paced and exciting.
Choosing a job in the Paralegal field guarantees you will encounter new legal situations and information every day. You will not only be asked to perform a wide variety of tasks each day, from preparing legal documents to interviewing witnesses, you'll also encounter new legal duties as no two cases are ever the same. One thing most Paralegals would agree on is that their job is never boring.
Reason #6: You'll become an expert in the law.
As a Paralegal, you will quickly become an expert in the law since you will be performing a wide variety of tasks and encountering different laws each day. This will help you keep up with constantly-changing laws and regulations within your specialty, leading to promotion and opportunities for advancement. If you're the type of person who enjoys a challenge and likes learning new things, a Paralegal career could be right for you.
Reason #7: You'll be helping people.
Paralegals are in a service profession, helping clients resolve legal problems under the direction of their supervising attorney. If you want to make a difference and enjoy dealing with people, a Paralegal career will provide you with plenty of opportunity to help people.
How Do You Become a Paralegal?
For those who have said "I want to be a paralegal" this program might be exactly what you need to start your new career. If you are interested in a Paralegal career, first you need to earn a degree. Choosing a Paralegal school that is ABA-approved is important – especially when it comes to obtaining a Paralegal job after graduation. Fremont University offers an ABA-approved Paralegal program and is one of only 28 ABA-approved Paralegal schools in California. The Paralegal programs takes just 15 months to complete and offers real-world legal experience and training. Contact us today to learn more about the Paralegal degree program available at our Cerritos college campuses in Los Angles, CA. Your new journey to become a paralegal starts today!
Paralegals may not provide legal services directly to the public, except as permitted by law.

Get a FREE Paralegal Career Guide by filling out the form on the right side of the page.