Advice for Adults Returning to School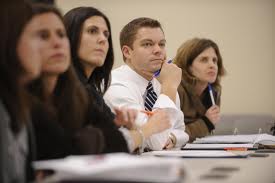 Returning to college as an adult can be a great opportunity to advance in your existing career or prepare for a new one. Unfortunately, many adults are hesitant about returning to school due to a lack of time or fear that they won't be able to keep up with the demands of today's college courses. Below is advice for adults returning to school that can prevent some common mistakes.
Get financial assistance
Money is an issue for many adults who go back to school. What most people don't realize is that scholarships aren't just for young students. There are many scholarships available to older students and non-traditional students of all types. Search online for scholarships, including FAFSA (Federal Student Aid), and ask your school about the financial aid programs they offer.
Take the easy classes in the beginning
As an adult returning to school, it's best to ease into college. The worst thing you can do is overwhelm yourself with difficult classes when you first return to school. One of the most important tips for adult students is to take the less challenging classes first to allow you to get into the habit of studying before you start taking more demanding classes.
Be careful not to overload your class schedule
As an adult going back to school, you may already have a full schedule, including a spouse, children, and work responsibilities. A good rule of thumb to keep in mind when enrolling in classes is that for each credit hour, you will usually have 3-4 hours of studying per week. Make sure you calculate time to study into your schedule and avoid taking too many classes at once.
Ask your family for support
Have a talk with your family before you begin classes and let them know how important studying is. Let them know that you will need plenty of quiet time during the week without distractions and ask for their cooperation.
Make time for studying
For many college kids, going to school is their job. Adult students, on the other hand, often already have a full-time job and a family to care for. If you plan to add school to your already busy schedule, you're going to have to find a way to manage your study time. Choose a study time that makes the most sense for you whether it's early morning or after dinner.
Find a support system
So many adults are going back to school that many schools now have websites or organizations set up to support these types of students. You can perform a search online for terms such as "non-traditional students" or "support for adult students". It's also a good idea to introduce yourself to other students like yourself so that you can support each other. Remember that most non-traditional students have the same concerns as you, so don't be afraid to reach out.
Don't give up
The most important advice for adults students is that no matter how stressful college is, don't give up. If you are struggling with a subject, arrange for tutoring or ask your instructor for help.
If you're an adult who is considering returning to college, consider all that Fremont University has to offer. Fremont University can help prepare you for the career you've always dreamed of. With accelerated degree programs and online courses, you can earn an associate's degree in as few as 15 months and a bachelor's degree in just over two years. The best part about attending Fremont University as an adult returning to school is that there are many other people at Fremont in your situation.
If you need help deciding which degree program is right for you, take our free career quiz to find the career that best fits your personality. Contact us today to get started in one of our degree programs.