How Do I Become a Law Clerk?
If you're looking to start a new career in this field you might be wondering just what is a clerk? A law clerk is typically someone who works for a judge in either the municipal, state, or federal court systems. These individuals perform a variety of tasks for judges, including:
Drafting memoranda and opinions
Conducting legal research
Verify legal citations
Attend hearings
Prepare files for hearings
Manage filing systems
Assist with pro se issues in bankruptcy court and in prisoner cases
A law clerk position is sometimes a temporary one, lasting only one or two years, depending on the judge.
What Type of Education Is Required to Become a Law Clerk?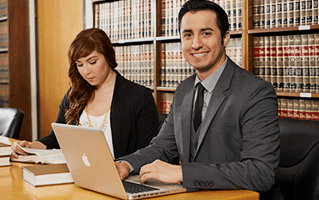 Depending on local laws, law clerks might need to have various different qualifications. Some might be looking for graduates with a juris doctor (JD).
In addition to the above, there are key skills successful law clerks possess:
Organizational skills, coordinate and prioritize multiple projects,
Multitasking skills
Experience with word processing,
Knowledge of online legal research sites
Experience with online case management filing programs
What is the Job Outlook for Law Clerks?
Employment opportunities for judicial clerks is projected by the U.S. Bureau of Labor Statistics (BLS) to decline over the next several years, making it a very competitive field. The BLS estimates the national median annual wage for judicial law clerks to be $58,840.
How Do I Become a Law Clerk?

Because the field is very competitive, it is important to have the best education and experience to set you apart and give an edge on the competition. Here are a few key steps you must take to become a judicial law clerk:
Obtain an Undergraduate Degree – Before completing law school, you must gain an undergraduate degree. Because law schools do not have requirements as to the field your undergraduate degree is in, you can get it in whatever you want. However, completing a pre-law degree and maintaining a high grade point average will set you apart and help you get into the best law programs.
Take the Law School Admission Test (LSAT) – To gain acceptance to law school, you must take and pass the LSAT. This test includes three multiple choice sections that cover reading comprehension, analytical reasoning, and logical reasoning. In addition, there is a written essay section that is submitted to law schools along with the test scores.
Earn a Juris Doctorate – Typically, it takes three years of full-time attendance to graduate law school. You will complete courses in civil and criminal law and procedures, contract law, torts, legal writing and research, constitutional law, ethics and, even specialty law courses. Those wishing to become law clerks should complete classes that will expand their skills in legal research, writing, and judgment.
Pass the Bar Examination – Since a judicial law clerk is often a lawyer, graduates of law school should take and pass the state bar examination.
Gain Experience – Consider completing an internship before seeking employment. Judges will look for law clerks with experience.
Source: https://www.bls.gov/oes/current/oes231012.htm#nat
Related Articles:
How To Choose a Legal Career
Top 5 Highest Earning States for Paralegals
Are Paralegals Entitled to Overtime Pay?
*In no way does Fremont University promise or guarantee employment or level of income/wages. Paralegals may not provide legal services directly to the public, except as permitted by law