Law Clerk Job Description
What Do Law Clerks Do? Job Description of a Law Clerk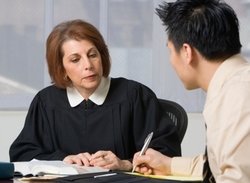 Law Clerks work with lawyers and judges researching and preparing legal documents. They are often responsible for locating and analyzing legal documents to verify facts and case law and assess related causes of action.
They meet with clients and offer support to lawyers and judges in a courtroom setting. Law Clerks assist with trials, hearings, and bail motions. They may also be required to act as a bailiff or court clerk during court hearings. Another responsibility of the Law Clerk involves basic administrative support for lawyers or judges. Law Clerk salaries vary based on experience.
Learn more about our paralegal program
Preparing for a Law Clerk Career
Earn a Paralegal degree at Fremont College and be on your way to an exciting job as a Law Clerk. It takes just 15 months to complete an associate's degree in Paralegal Studies, allowing you to pursue an exciting Paralegal career as a Law Clerk in just over a year. The Paralegal degree program at Fremont College provides the hands-on training and real-world legal experience you need to succeed in a Law Clerk job. You will get the chance to conduct actual legal research and participate as a member of an active legal team. Space is limited, so enroll today to prepare for a Law Clerk career.
Additional Paralegal Specializations
* Paralegals may not provide legal services directly to the public except as permitted by law.