How to Design Your Own Typography Wallpaper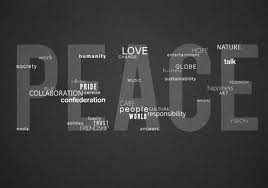 Are you looking for a way to revamp your living space? Mix contemporary and vintage to create unique typography wallpaper. Design companies around the world are taking the trend and running with it.
The designs pictured are from Wall & Decó, a contemporary wallpaper company located in Italy, but with a little time, the right supplies, and a good amount of creativity you can create these yourself. Here's how to create your own typography wallpaper:
1. Head to your local craft store and find some sheer printer paper with adhesive on one side. If you can't find sheer, regular adhesive paper will work, it will just involve more work when cutting out the letters.
2. In a Word document, type up the message you want or simply the alphabet. Make the font the size you're looking for. Bigger is usually better in this case. Pick the font style you like, whether it's decorative, curly, block, or traditional.
3. Print out a test sheet to see if you like the size, font, and overall look.
4. Make sure you look at your printer to see whether you should load paper face up or face down. Then load your new adhesive printer paper accordingly.
5. Now print out your designs! It will probably take quite a few sheets due to the size of the letters.
6. Next, cut out the letters and stick them to your wall as you see fit! Beware, upon removal the adhesive may pull off some of the existing paint so make sure you know where you want to put the letters before you take the plunge and attach.
Do you enjoy projects like this? If so, consider a career in multimedia design. Fremont College of Multimedia Design can help you make your dreams a reality and turn your creativity into a successful career. Don't wait another minute to begin your exciting career in multimedia design where you will learn how to create your own designs using Adobe Photoshop, Adobe Illustrator, and Adobe CS6. Contact Fremont University today!