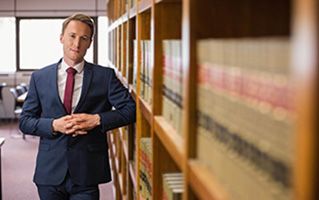 Paralegal Studies encompasses many facets of the law and includes, but is not limited to, property, employment law, family law, torts, civil procedures, contracts, and legal research and writing. This ABA-approved Paralegal Studies Associate of Arts Degree program provides training in conducting research on relevant laws, regulations, and legal articles; drafting correspondence and legal documents; gathering evidence and legal documents for attorney review and case preparation; report writing; and processes for obtaining affidavits and other formal statements that may be used as evidence in court. The expected completion time for this program is 15 months.
Some of the required core courses you might be expected to complete after enrolling in the Fremont College Paralegal school program may include the following:
PA120 Introduction to Law & Ethics
This course provides an introductory survey of American law and jurisprudence, the federal and state judicial systems, and various substantive legal fields. Additional topics of coverage will include client intake interviews, the doctrine of confidentiality and ethical concerns, and the inner workings of a law firm. This course will also provide a review of the professional rules of conduct, and common and specialty areas of practice, in both the private, public, and non-profit sectors.
PA125 Civil Procedure
Presents a foundational overview of civil procedure while discussing the litigation process and evaluating topics including summary judgments, discovery, interrogatories, depositions, and various components of trial preparation. Introduces the student to the concepts and mechanics of litigation and how to navigate a civil lawsuit from inception through the appeal process. This course will also cover pertinent topics such as sources of American law, informal fact gathering and investigation, case evaluation and strategy, and parties and jurisdiction. Students will be introduced to pleadings, including analysis and practical exercises in motions, including complaints, answers and cross-complaints.
PA240 Employment Law
This course surveys employment law and covers the employer/employee relationship, at will status, employee testing, whistle blowing lawsuits, wage and hour concerns, and benefits. This course will discuss alternative dispute resolution, the civil rights act and affirmative action programs. The students will review other topics in employment law including the FMLA, OSHA, collective bargaining agreements and applicable labor codes and regulations. The class will provide the student with instruction concerning topics including race, age, sexual, disability, gender and wage/hour discrimination, as well as workers' compensation laws.
PA245 Contracts
This course provides a general introduction to the fundamentals of contract law and addresses the necessary formalities to create binding contractual obligations, including the requirements of mutual assent (offer, acceptance), consideration and the statute of frauds. This course will also provide instruction covering capacity, legality and the effect they can have in relation to the validity of a contract, as well as specific conditions that may be included in a contract. The students will cover topics including breach of contract and the associated remedies that may apply. In addition, the student will be introduced to the Uniform Commercial Code and third party contracts, as well as how to draft a contract.
PA250 Business Organizations
This course will include an examination of business organizations, including sole proprietorships and general and limited partnerships. The student will also be introduced to the Corporations Code, as well as state and federal securities laws. Other topics that will be covered, include the 125 paralegal's role regarding business enterprises, particularly in the area of facilitating filings with the Secretary of State. The students will review business organizations, corporate structure, management, shareholders, annual and special meetings, and dividends. The course will review what happens when a corporation changes its structure, dissolves/winds-up and what the qualifications are to establish a foreign corporation.
PA220 Legal Practice Technology
This course introduces the student to various types of technology that are commonly used in the legal field. The students will receive an overview of computers, word processing, PDF file creation and document assembly. This course will also introduce the student to databases and case management software, as well as spreadsheet, legal timekeeping and billing software. The students will receive instruction on how utilize the internet and computer-assisted legal research with legal search engines such as Westlaw. In addition, the students will receive training in litigation support software and electronic discovery.
PA230 Real Property Law
This class provides an overview of real property law including estates in real property, various forms and classifications of ownership, and marketability of title. Additional topics include the rights and duties of landowners, property disputes between neighbors, involuntary liens, and foreclosures. The students will receive instruction in topics including landlord/tenant law, deeds and the transfer of real estate interests, as well as mortgages, title searches and title insurance. This course provides instruction on developing practical skills, including how to research deeds and title, decipher mortgage clauses, and the ethical issues facing legal practitioners in the field.
PA225 Family Law
This course provides an introduction of the legal theories and research materials related to the field of family law and associated matters such as dissolution, legal separation, OSC motions to establish and modify child custody, visitation, child support, spousal support, and the notice and enforcement of those orders. In this course the students will be introduced to the family code, and how to access and analyze pertinent components of the code. The course will review the principals of community and separate property, as well as the associated property rights and obligations that arise in a marital or domestic partnership. The students will cover how to access judicial council forms, and techniques and practice in preparing those forms which are commonly required in typical family law proceedings.
PA130 Legal Research and Writing
This course introduces students to the skills necessary to analyze the facts of a case and conduct the requisite legal research, including searching for case and statutory law, and analyzing and presenting those primary sources once located. This course will also introduce the students to the federal and state court systems, and legal authorities such as practice guides, digests and annotated law reports. The students will receive instruction in research skills so the students can produce comprehensive written memorandums, including inter-office memorandums, legal research memorandums and case briefs. Students will also receive training in reference to secondary sources such as legal encyclopedias, periodicals, restatements and treatises.
PA140 Criminal Law and Procedure
This course presents a foundational overview of criminal law and procedure, and introduces the student to the penal code, crimes and the criminal justice system. The student will learn to differentiate between criminal and civil standards of proof, and how they're applied. This course will illustrate the distinction between criminal law and criminal procedure, principals of criminal jurisdiction, as well as constitutional limits related to criminal procedure. This course provides a review of criminal law and procedure, and will cover pertinent topics, including types of criminal offenses, defenses to crimes, intent and the result of not meeting the applicable standard of proof. The students will also discuss the components of criminal procedure and how it affects the investigative stages of a case, including the pre-trial and charging stages.
PA145 Torts
This course will cover the basic principles of civil liability in tort, including a comprehensive review of intentional torts and the elements of negligence. The student will learn how to effectively apply those elements to establish a prima facie case. This course will present the defenses that a defendant may raise, and the underlying principals and policies justifying and limiting liability. This course will cover the topic of negligence, including the primary defenses to negligence and the effect that they may have on a tort claim. This course will also introduce the student to the concepts of strict and products liability, malpractice, fraud, misrepresentation, and business torts.
PA150 Advanced Legal Research & Writing
This course introduces the student to advanced legal research and writing, which builds on skills formulated in the introductory courses. This course focuses on legal correspondence, opinion letters, keeping the client advised, the need for clarity and maintaining client files. The student will learn how to gather pertinent and tangible facts, how they relate to hearsay, and evidentiary rules that may have an effect in reference to the admissibility of facts. The student will also learn how to draft a persuasive memorandum in accordance with applicable rules. This course will also cover the drafting legal motions, weaving factual declarations into a legal argument, and preparing captions, and points and authorities. The students will receive enhanced training on notice requirements, filing, e-filing, and proof of service requirements. In addition the student will receive enhanced training in computerized legal research, and how to organize the material they find in a concise and professional manner.
Enrolling in the Cerritos College Paralegal School
If you're looking to enroll at the Fremont College Cerritos campus as a paralegal student, you can do so by going to our application page or by simply filling out the form on this page to get started.
*Paralegals may not provide legal services directly to the public, except as permitted by law.