Retail Training Goes Back to School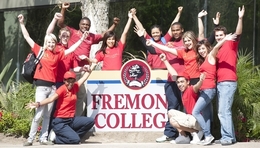 By Carrie Rossenfeld
Store owners, managers and employees located at NewMark Merrill's portfolio of more than 70 shopping centers will now have the opportunity to sample practical college courses at no cost to the learners. The commercial real estate property-management and development firm is partnering with Fremont College to offer these retail employees the unique corporate-training opportunity of learning relevant retail-related skills alongside full-time college students.
Employees will have the chance to learn in the same classrooms as these students, improving their skills in web development, store management, visual marketing, financial statement analysis, computer literacy and business leadership. Fremont College has identified these courses as relevant to the communities that NewMark Merrill serves, their tenants and upwardly mobile employees alike.
The program will initially launch at multiple Southern California centers including Anaheim Town Center, Bristol Warner Marketplace in Santa Ana, Bristol Warner Village in Santa Ana, Norwalk Town Center, Park Plaza on Main in Baldwin Park and University Village in Riverside, which will also include signage. "Fremont College students will benefit from the real-world experience of working professionals by being in the classrooms together," said Dr. Sabrina Kay, chancellor of Fremont College, in a prepared statement.
"It's a completely different experience when you're working with real-time problems. In classroom discussions, students can propose solutions, test them and see what happens in class next week." The hope is that these opportunities for both full-time and retail-employed students will help them build the professional experience they need to land exciting new jobs as well as to provide the tools to help them grow in their existing jobs in this competitive economy. "We look forward to having the opportunity to demonstrate to NewMark Merrill's over 1,500 tenants the value additional education can make to their lives," Kay added. "Education changes everything. It is my hope that we can inspire ambitious employees with the focus, discipline and desire to excel to better their lives through education, as well as adding relevance to our curriculum and improving our students' ability to contribute to the American workforce."